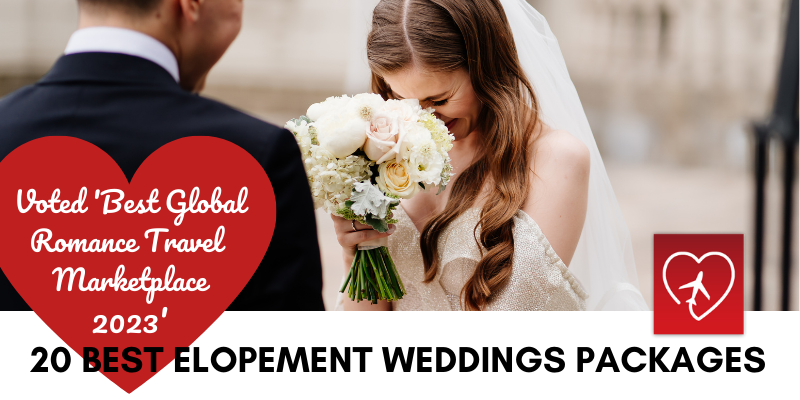 20 Elopement Wedding Packages - The Romantic Tourist
Planning a wedding is often overwhelming: there are so many details and decisions to make, from picking out the perfect colours for your decorations to finding an amazing photographer.
But what if you could skip all that hassle and elope instead?
Elopements can be just as romantic, special, and unforgettable — but they offer up much less stress than traditional weddings.
Whether you're looking for a simple ceremony for just the two of you or you're planning an intimate wedding with only a few of your closest family and friends – here's our top 20 elopement packages to choose from! With these exclusive ready-to-book packages bursting with personality, creativity, and romance - no two memories will ever be the same!
#1 Runaway Love Wedding Package - Cabo Beach Weddings, Mexico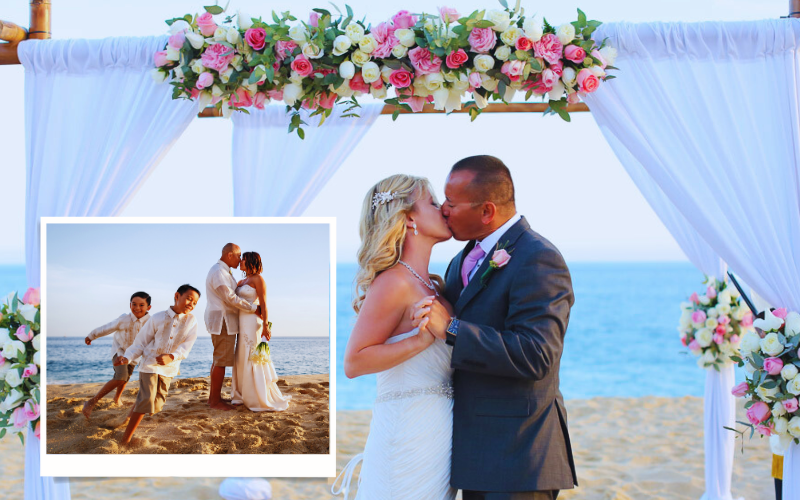 SEE FULL ELOPEMENT PACKAGE DETAILS
Embark on a magical journey to the captivating paradise of Cabo, where love blossoms amidst awe-inspiring beaches, luxurious accommodations, and breath-taking vistas. Envision exchanging heartfelt vows on the pristine sands of this glorious destination, with Cabo Beach Weddings orchestrating every exquisite detail. Say "I do" in the utmost romantic fashion with our exclusive package that promises an idyllic beach wedding for two.
#2 Small Western Wedding Package - Royal Muang Samui Villas, Koh Samui, Thailand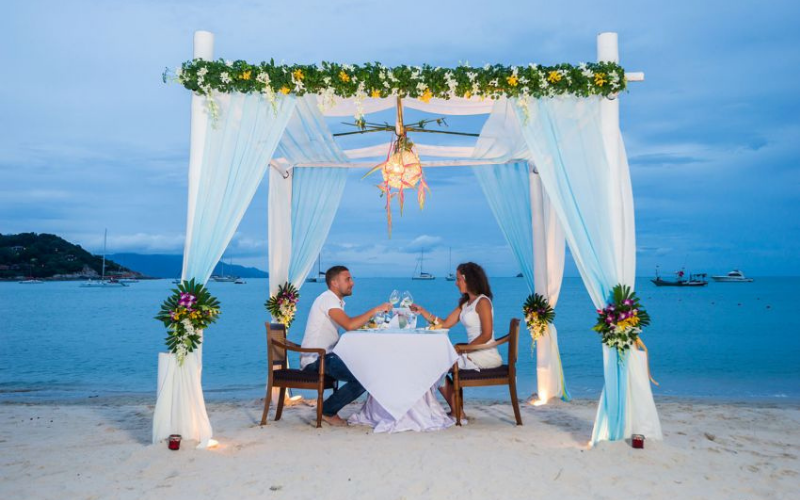 SEE FULL ELOPEMENT PACKAGE DETAILS
Seal your love by saying 'I do' surrounded by your favourite people (up to 7 guests) in a picture-perfect beach wedding on the stunning Choengmon Beach, Koh Samui. Staying at Royal Muang Samui Villas your special day with a soulful morning blessing from monks at a nearby temple, then, stand on the pristine white sands under a gorgeous flower-covered canopy and exchange heartfelt vows that represent your eternal commitment. Seal your union by planting a love palm tree, symbolizing the growth and strength of your love. Finally, raise your glasses to a blissful future over a delicious Thai beach dinner that will leave you feeling oh-so-romantic.
#3 Private Island Cruise Wedding - MSC Cruises, Bahamas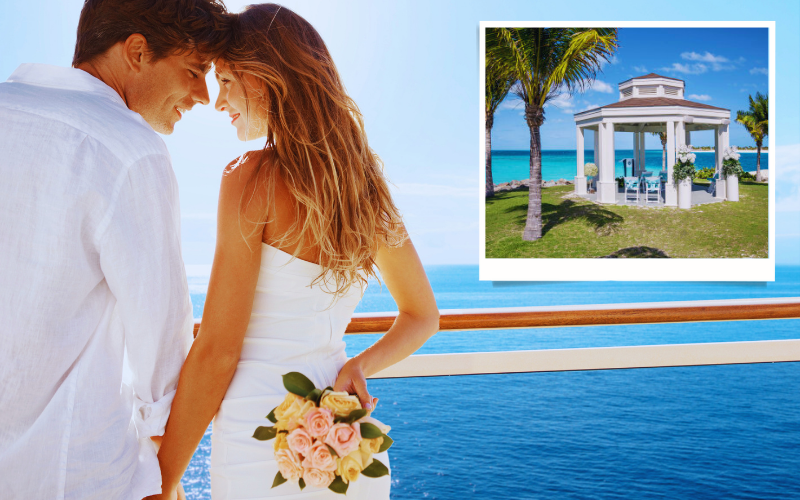 SEE FULL ELOPEMENT PACKAGE DETAILS
Are you ready to embark on the voyage of a lifetime? MSC Cruises invites you to say "I do" on a luxurious cruise and escape to your own private slice of paradise. Picture yourself exchanging vows amidst the breath-taking backdrop of the Caribbean sea, surrounded by pristine waters that glisten like diamonds. But this is just the beginning. Indulge in a decadent breakfast in bed, savour intimate dining experiences just for two, and capture every moment with a mesmerizing 2-hour photo session. All of this awaits you in one of the Bahamas' newest and most exclusive havens. Don't let this once-in-a-lifetime opportunity slip away. Prepare to embark on the ultimate romantic cruise and wedding experience. Your dream day is waiting!
#4 Full Moon Wedding Package - Amazilia Travel Costa Rica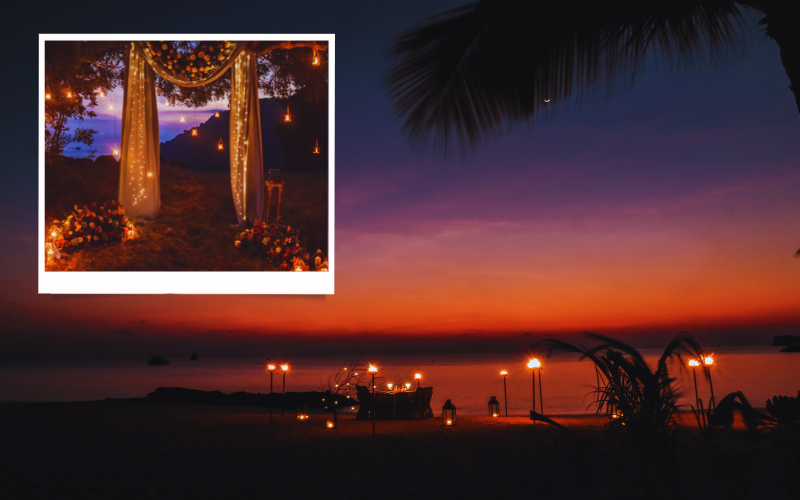 SEE FULL ELOPEMENT PACKAGE DETAILS

Prepare for a wedding experience like no other - your unforgettable Full Moon Wedding awaits! Imagine this: you and your beloved whisked away to the breath-taking paradise of Costa Rica for a celebration that will stay in your hearts forever. Get ready for a curated celebration that will leave you in awe: indulge in delectable gourmet cuisine, sip on drinks from a free-flowing bar, and have every precious moment expertly captured by a skilled photographer. And let's not forget the live music that will have you dancing under the spell of the captivating moon and stars.
#5 Intimate Wedding in the Treetops - My Arbor, Italian Dolomites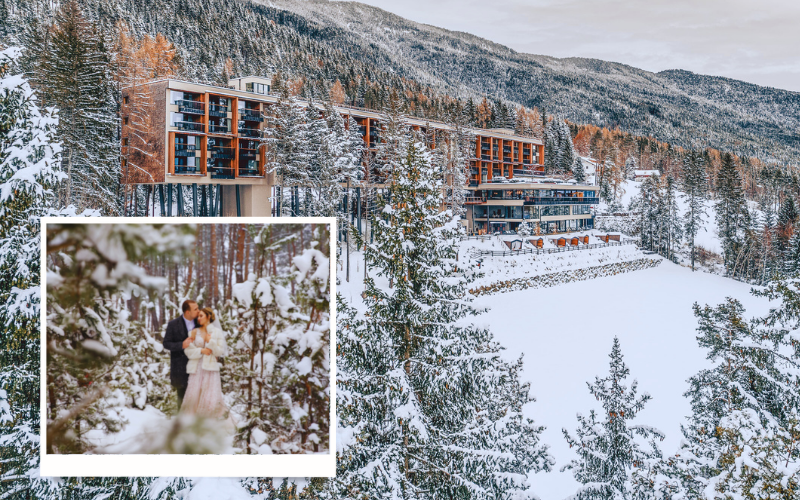 SEE FULL ELOPEMENT PACKAGE DETAILS
Ready to make your wedding dreams take flight? Imagine exchanging vows among the treetops, away from the hustle and bustle of everyday life, in the breath-taking embrace of nature. If you crave an intimate celebration that centres around the both of you, search no more. My Arbor is an unique all year-round venue here to create magical memories for small weddings, hosting up to 15 cherished loved ones. But that's not all - they go above and beyond to curate an enchanting ambiance throughout your stay including unforgettable dining experiences. Get ready to say "I do" in the most extraordinary way possible.
#6 Wedding for Two - Swinton Estate, Yorkshire Dales, UK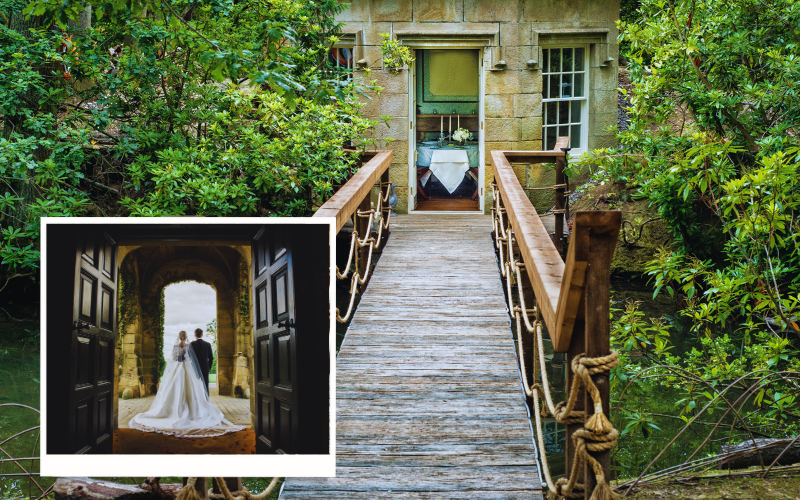 Get ready to fall in love with the breath-taking Yorkshire Dales and the incredible Swinton Estate. This exclusive package is tailor-made for couples who crave an intimate and private celebration. Picture this: you and your partner, toasting to your special day with a bottle of Champagne upon arrival. As you explore the enchanting castle grounds and unwind at the luxurious Swinton Country Club & Spa, you'll feel like royalty. Experience a truly magical moment as you exchange vows in one of our stunning rooms, followed by a romantic wedding feast for two at one of our award-winning restaurants.
#7 Two Souls Wedding - Mana Island Resort & Spa, Fiji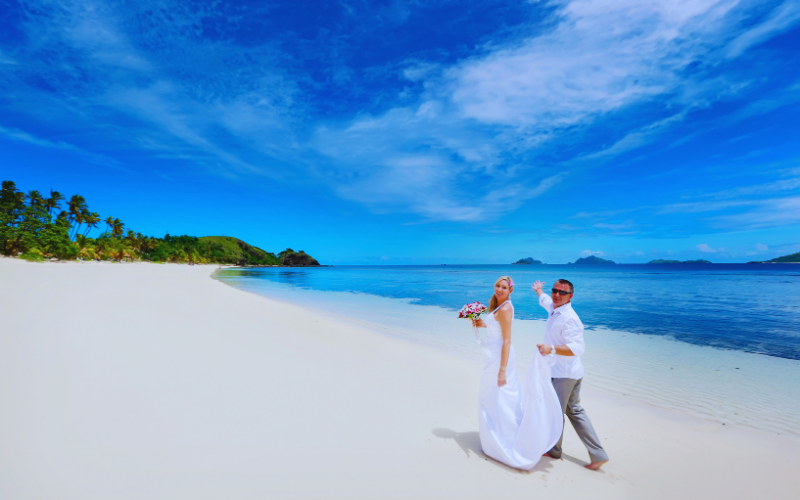 SEE FULL ELOPEMENT PACKAGE DETAILS
Discover the perfect destination where hearts unite and thoughts align. At Mana Island Resort & Spa - Fiji, nature's breath-taking beauty sets the stage for an enchanting love story. Immerse yourselves in crystal-clear waters, surrounded by awe-inspiring backdrops that will leave you speechless. Whether you choose our seaside chapel with its panoramic views or one of our esteemed beaches, saying 'I do' has never been more magical. Let the romance unfold in this truly elegant paradise.
#8 Destination Wedding in the Maasai Mara, Kenya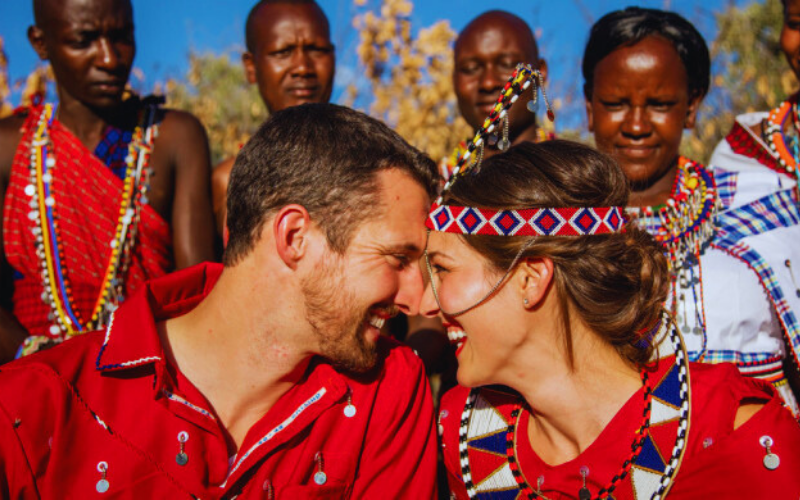 SEE FULL ELOPEMENT PACKAGE DETAILS
Dreaming of a mesmerizing destination wedding in Africa? Look no further! At Angama Mara, the breath-taking views of the Maasai Mara Reserve will set the stage for your special day. The dedicated team at the safari lodge will make sure your wedding is unforgettable, whether you opt for a classical ceremony or a traditional Maasai blessing. Arranged by our expert wedding partners at Journeys Worldwide your big day with combine the allure of Maasai culture with Kenya's world-famous roses to create a stunning and effortlessly beautiful wedding. Prepare to be blown away by the sweeping views of Africa, creating an extraordinary event that will be cherished forever. (Please note the featured package is for a minimum of 10 guests, please enquire for smaller weddings).
#9 Elope to the Beach Package - Sirenian Bay Resort & Villas (Luxury Caribbean All-Inclusive), Belize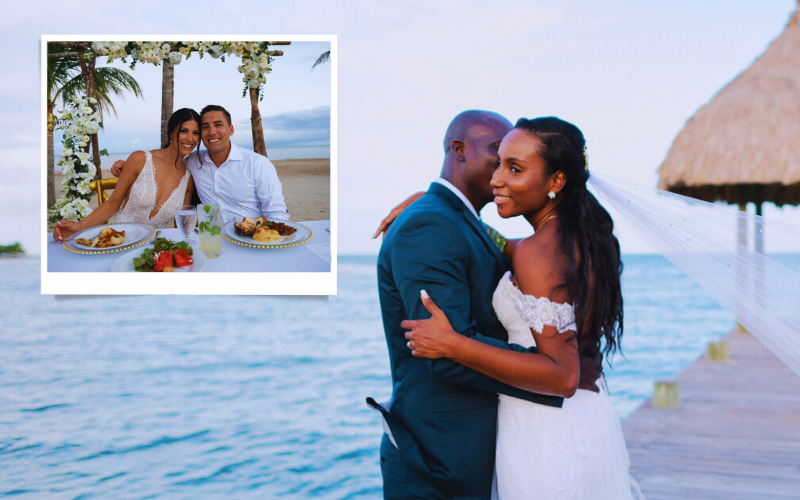 SEE FULL ELOPEMENT PACKAGE DETAILS
Dive into the Caribbean bliss of Sirenian Bay Resort & Villas and make your dream beach wedding a reality! Imagine a breath-taking ceremony surrounded by turquoise waters and white sandy beaches. But this is just the beginning... After exchanging vows, plunge into thrilling snorkelling adventures and discover the underwater wonders of Belize. Pamper yourselves with personalized spa packages made exclusively for lovebirds. And as the sun sets, indulge in a private dinner under a twinkling sky, just for the two of you. Escape the ordinary with this all-inclusive 4-night elopement package that guarantees unforgettable memories and endless romance. Don't let life pass you by - it's time to say "I Do!"
#10 Safari Elopement Package - Runaway Romance, South Africa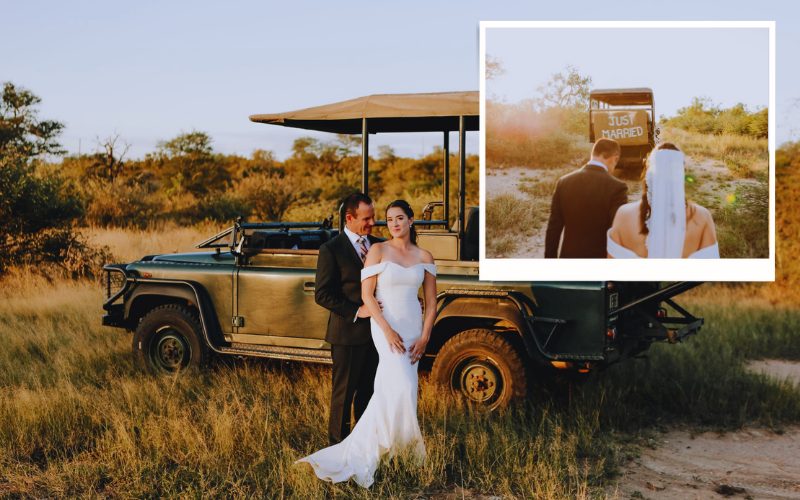 SEE FULL ELOPEMENT PACKAGE DETAILS
Immerse yourself in the wild beauty of South Africa and say "I do" on an unforgettable safari. Whether you're on a tight budget or looking for a luxurious experience, we've got the perfect game lodge for your dream wedding. Our team of wedding experts at Runaway Romance will handle all the details, from venue hire to photographer and more. Picture this: exchanging vows in a private location during a thrilling game drive, capturing breath-taking photos as you explore the wilderness. And to top it all off, indulge in a candlelit dinner for two, savouring the finest South African cuisine. Get ready for a wild wedding adventure like no other.
#11 Just for Two Intimate Wedding Package - Chateau Bouffemont, 30km from Paris, France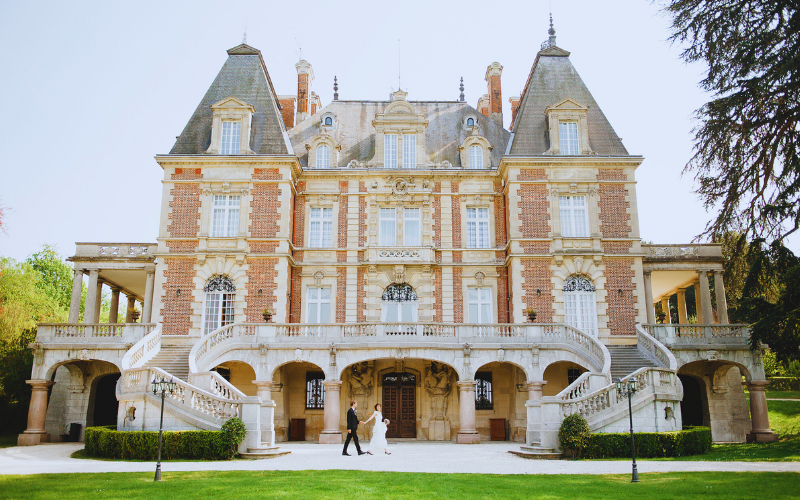 SEE FULL ELOPEMENT PACKAGE DETAILS
Step into the enchanting world of the Château – a tranquil sanctuary that dates back to the 19th century. This majestic haven has hosted magnificent events, overseen by the illustrious Marquise of Preignes and Baron Empain. Now, they invite you to experience their exclusive "Just for Two" package. Picture this: four blissful hours in this breath-taking setting, all yours for only €950 (including VAT). Whether you're dreaming of an intimate ceremony, a romantic escape, or a renewal of vows, this is the perfect opportunity to create lasting memories.
#12 Just Us Wedding Package - Zanzibar White Sand Luxury Villas & Spa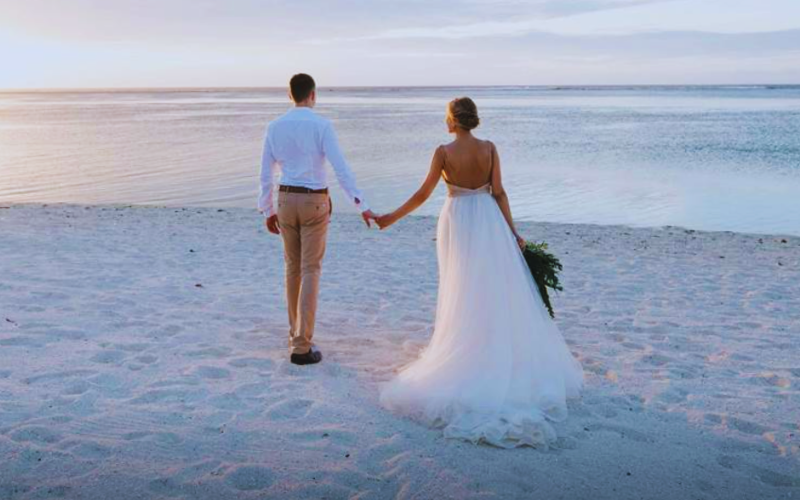 SEE FULL ELOPEMENT PACKAGE DETAILS
Dreaming of a picture-perfect beach wedding for just the two of you? Look no further than Zanzibar White Sand Luxury Villas & Spa. They have all-inclusive packages that will make your wedding day feel like a slice of paradise. Say "I do" surrounded by pristine white sand beaches and enchanting tropical gardens, while their expert team takes care of every detail. And once the celebration is over, retreat to your luxurious villa and spa for the ultimate relaxation. Don't wait any longer to start turning your dream wedding into a reality.
#13 Heavenly Elopement Package - Tanah Gajah a Resort by Hadiprana, Bali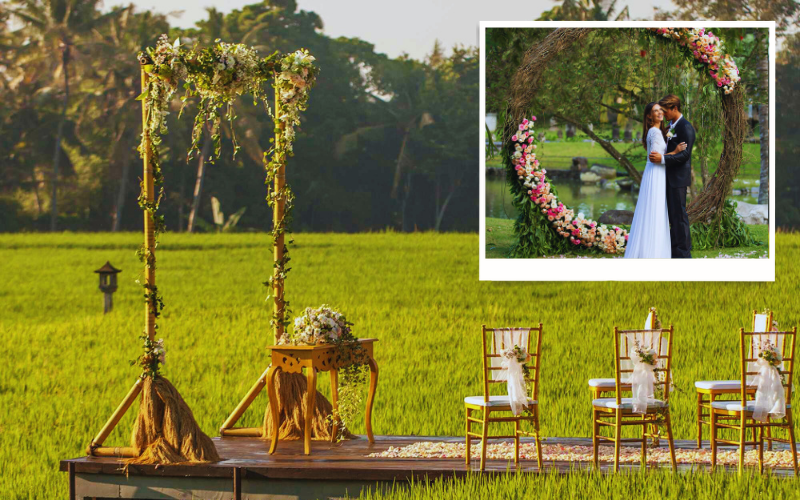 SEE FULL ELOPEMENT PACKAGE DETAILS
Get ready to be spellbound by Tanah Gajah, the ultimate Bali oasis. Say "I do" amidst the serene Rice Paddy Platform, where love is celebrated in a private and intimate ceremony. Surrounded by the lush greenery of Rice Fields and the captivating tropical jungle, your wedding will be adorned with elegant decorations. Allow the symphony of nature to serenade your profound love story for eternity.
#14 Elopement Wedding for Two - Turin Castle, County Mayo, Ireland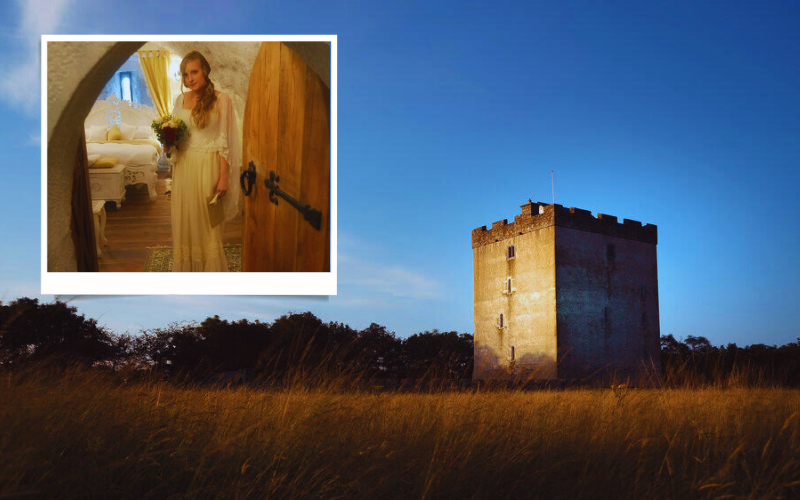 SEE FULL ELOPEMENT PACKAGE DETAILS
Say "I do" in style with Turin Castle's elopement package! Picture this: two blissful days in your very own castle, with a private chapel for your dream ceremony. But wait, there's more! Get ready to be enchanted by sweeping driveway views and stunning pastoral landscapes, all with majestic mountain backdrops. With five cosy bedrooms and bathrooms, up to 12 guests can join in on the magic. Whether it's an intimate elopement or a small celebration with loved ones, Turin Castle has got you covered. Your dream wedding awaits!
#15 Þingvellir National Park Wedding - Luxwedding in Iceland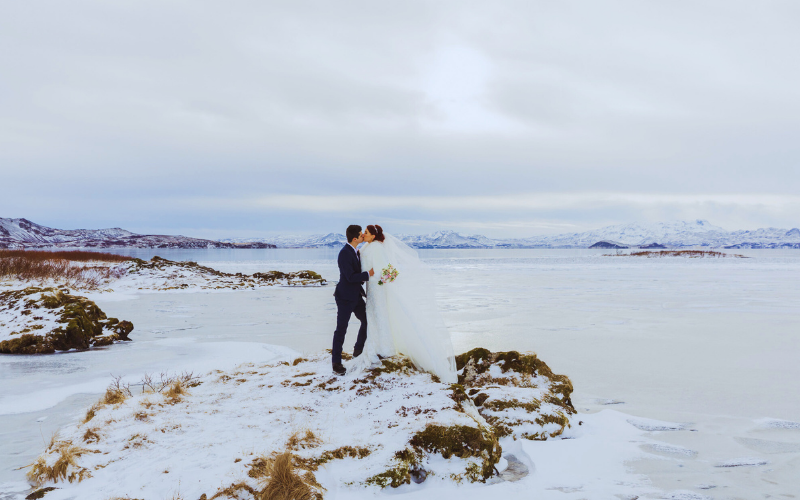 SEE FULL ELOPEMENT PACKAGE DETAILS
Say "I do" in style at Þingvellir National Park - the ultimate wedding destination for those who appreciate simplicity. This Wedding Tour offers a seamless experience, from meeting your officiant at the information centre to exchanging vows in a private, picturesque spot within the park. And that's just the beginning! Capture everlasting moments as we capture your wedding photos amidst the awe-inspiring beauty of the park's landscape. Make your special day truly unforgettable.
#16 Intimate Wine Cellar Wedding - Hermosa Inn, Arizona, USA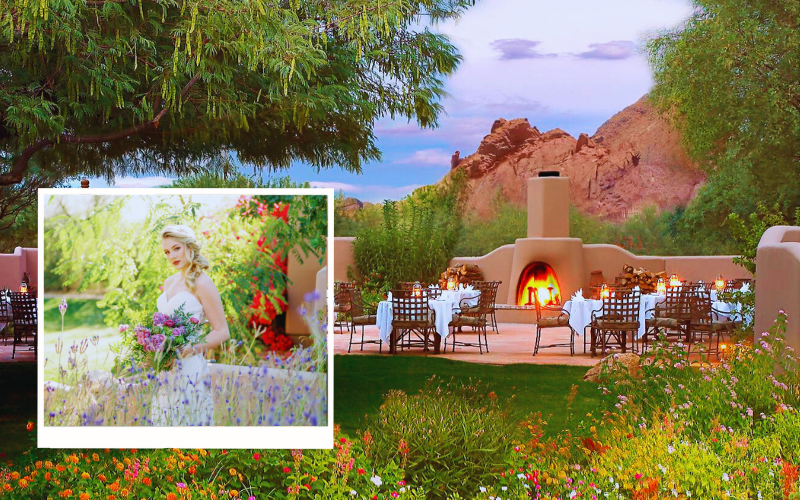 FULL ELOPEMENT PACKAGE DETAILS
Get ready to say "I do" in the enchanting gardens of The Hermosa Inn! Weddings here offer a truly intimate experience, perfect for creating beautiful memories. And guess what? They've got something special for small and intimate weddings - The Wine Cellar! Step into this candlelit haven tucked beneath the hacienda. With 1890s Chicago brick and reclaimed beams, it exudes rustic charm. The Wine Cellar can comfortably seat up to 12 guests around a rustic trestle table. But wait, there's more! The rustic trusses create the perfect dreamy canopy for an intimate dinner or reception to remember.
#17 Flirt Wedding Package - South Palm Resort, Maldives Addu Atoll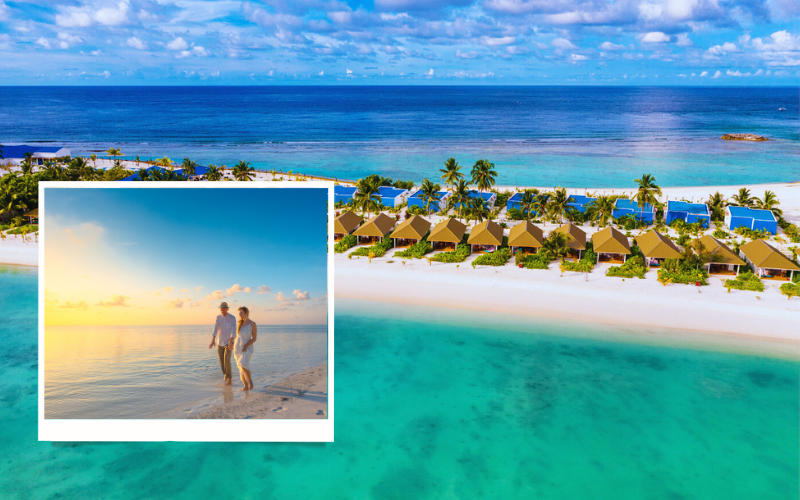 SEE FULL ELOPEMENT PACKAGE DETAILS
Craving a mesmerizing beach wedding with just the two of you? Say "I Do" to South Palm Resort Maldives! Dive into the breath-taking blues, lounge on pristine beaches, and soak up the tropical paradise vibes. This is the place to make memories that will last a lifetime! Immerse yourselves in a turquoise sky, with the silky sand of the Maldives beneath your feet, and the soothing sounds of the Indian Ocean in the background. Seal your love at lover's point by planting a tree and leave your mark on this magical destination. Then, retreat to your beautifully adorned villa for a slice of wedding cake and pure romance.
#18 "Romance Essence" Wedding Package - Stella Island Luxury Resort & Spa, Crete, Greece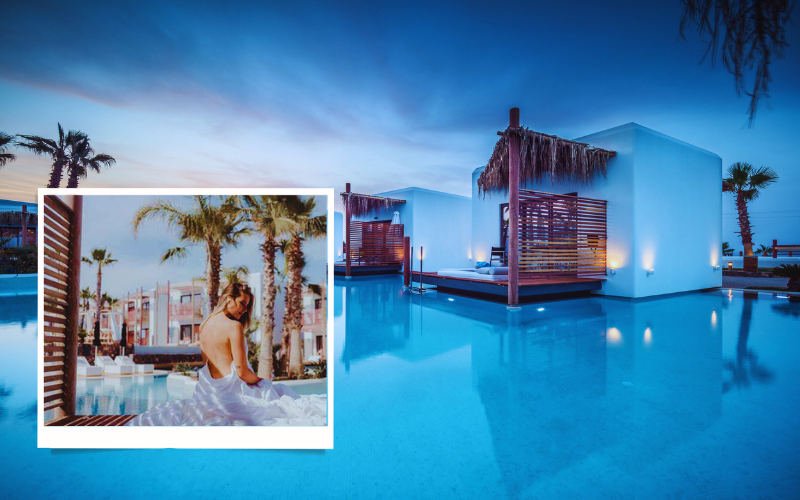 SEE FULL ELOPEMENT PACKAGE DETAILS
Escape to your dream wedding at Stella Island, where seaside romance and intimate elopements come to life. Whether you envision a beachfront ceremony, a rooftop affair, or an intimate chapel celebration, the dedicated wedding planning team will handle every detail until you say "I do"! After the ceremony, head to the rooftop A la carte restaurant, overlooking our stunning lagoon pool. Indulge in a culinary experience like no other, with a variety of menus inspired by our talented executive Chef. Get ready for a wedding experience that will leave you speechless and your taste buds delighted!
#19 Elope in Switzerland - Switzerland Wedding Company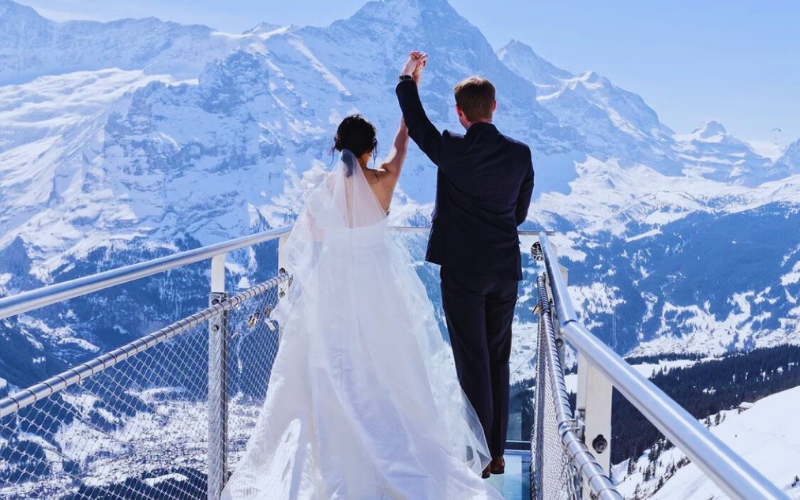 SEE FULL ELOPEMENT PACKAGE DETAILS
Escape to Switzerland for an unforgettable wedding adventure! The Switzerland Wedding Company boasts over two decades of elopement expertise, catering to lovebirds from every corner of the world. Armed with unparalleled knowledge of the stunning surroundings and unrivalled connections to top-notch venues and suppliers, they are masters at curating the ultimate elopement package tailored specifically to you. Sit back, unwind, and let the Switzerland Wedding Company work their magic, ensuring your day is flawlessly executed while you revel in its blissful moments.
#20 The Original Elopement Package - Gretna Green, Scotland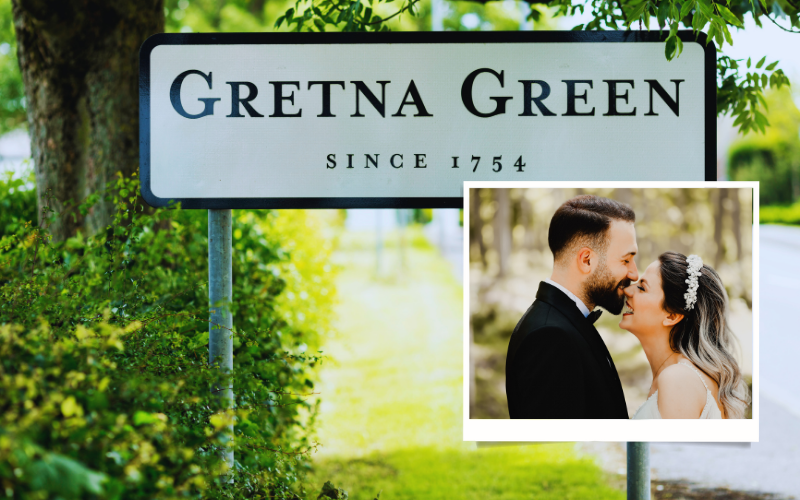 SEE FULL ELOPEMENT PACKAGE DETAILS
Get hitched in style at Gretna Green with venues including the Famous Blacksmiths Shop, Gretna Hall Marriage Rooms, the stunning Water gardens at Greens at Gretna, or The Old Toll Bar. And that's not all! With a choice of elopement packages, you'll also get a beautiful album filled with 16 breath-taking photographs. It's time to say "I do" and capture your special day in the most unforgettable way.
Booking your dream elopement...
With so many incredible options available, eloping to your destination of choice can be both incredibly unique and special.
No matter where you choose, with careful planning you will create a wedding experience unlike any other that truly speaks to who you are as a couple.
Now more than ever, it's easy to plan and book an elopement package getaway whether you're looking for intimate beachfront ceremony, lush mountain getaway, or a luxurious city venue, there's something magical waiting for any couple seeking an unforgettable wedding experience. So why not take the plunge and start exploring your best option?
Plus when you use The Romantic Tourist you'll get expert wedding advice and access to exceptional packages and deals, always booked directly with your host or venue to guarantee the best experience and value. There is something perfect just waiting for the two of you! So browse through our selection now and see all the amazing elopement packages we have available and see how easy it is to find something that will make your day one of the most memorable experiences of your life. Click here to see all wedding packages now and start planning your dream elopement today!