20 Places to Renew your Wedding Vows
Whatever your reasons, Renewing your Wedding Vows is possibly the most romantic thing you can do.
And with couples from Beyoncé & Jay Z to Sue & Pete from down the road, all suddenly getting in on the action...Renewing your Wedding Vows is a trend that's here to stay.
So, from barefoot beach ceremonies to a rooftop in Rome, we're here to show you how to say 'I do' all over again with our top 20 recommendations around the world...
#1 Lily Beach Resort & Spa - All Inclusive | Huvahendhoo Island, Maldives
The Maldives is one of the most sought-after romantic destinations in the world – a tropical paradise made for couples and the perfect place to renew your wedding vows. The award-winning Lily Beach Resort & Spa offers guests a range of exceptional villas with stunning views over the Indian Ocean. And its beachside location provides the perfect setting for intimate barefoot ceremonies on the sand.
#2 Toscana Resort Castelfalfi | Nr. Florence, Italy
The rolling green hills of Tuscany are an idyllic backdrop for romance. And the recently opened 5-star Toscana Resort Castelfalfi is a medieval village surrounded by vineyards and olive groves offering an authentic Tuscan experience and an idyllic location in which to renew your wedding vows.
#3 Bailiffscourt Hotel & Spa | West Sussex, United Kingdom
Set within 30 acres of beautiful English parkland – and with direct access to Climping beach - crackling log fires, a 13th century chapel, pretty rose-clad courtyards and intimate candle lit celebrations all confirm Bailiffscourt Hotel & Spa is one of the UK's most romantic places to renew your wedding vows.
#4 Stella Island Luxury Resort and Spa | Crete, Greece
This stunning 'Instagram-famous' resort is at the top of many couples' romance travel wish list, thanks to its luxury swim-up bungalows and blissful setting. Assisted by a team of expert wedding and event planners couples can also create an unforgettable renewal of vow experience at Stella Island. Say "I do" again and celebrate your love and commitment with each other surrounded by your friends and family or (and why not?) just the two of you! See details of their magical Vow Renewal package.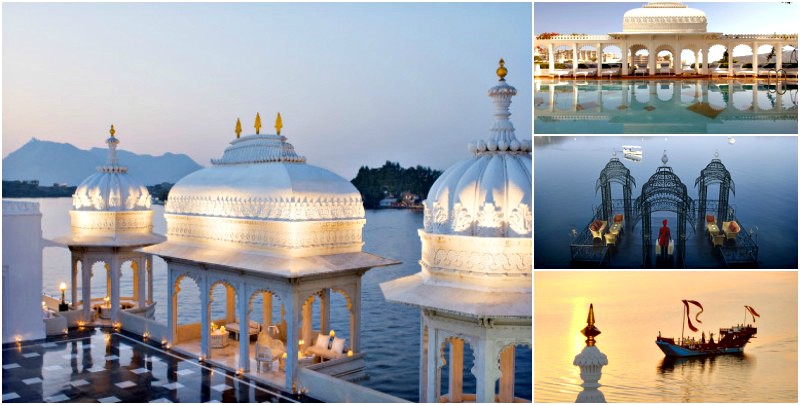 #5 Taj Lake Palace | Rajasthan, India
This magical floating palace is perfect for couples seeking a royal renewal of vows experience. Located in the middle of Lake Pichola, Taj Lake Palace is one of the most beautiful palaces in the world, arising out of the Turquoise Waters like an elegant fantasy in white marble.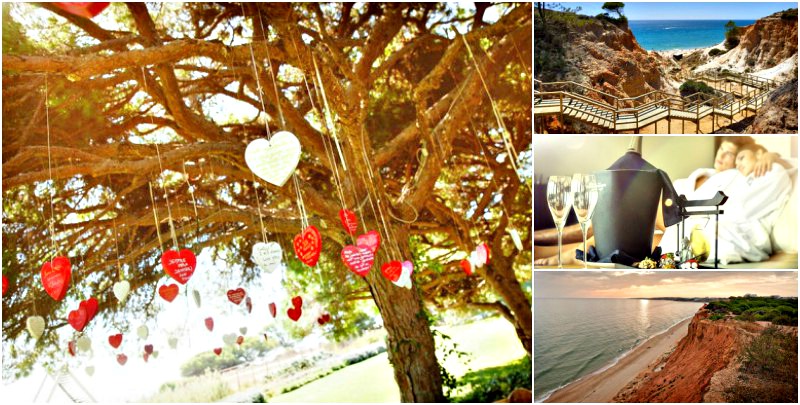 #6 EPIC SANA Algarve | Algarve, Portugal
With its spacious and tranquil setting, guaranteed sunshine and lavish facilities and accommodation, EPIC SANA Algarve is a fantastic place to renew your wedding vows. Create extra-special memories by leaving your vows of eternal love by hanging a personalised wooden heart on The Love Tree - an imposing stone pine, located in the resort gardens - where it will remain for as long as nature allows it.
#7 Carlisle Bay | Antigua
If you're dreaming of renewing your wedding vows on the powdery white sands of a Caribbean beach... look no further! This luxury Caribbean island resort guarantees once in a life time memories set to a sound track of the ocean and the sounds of the rainforest. We also think you'll love the 'extra' romantic experiences on offer including a private candlelit jetty dinner for two and an in-suite Champagne Breakfast on the morning after your celebration.
#8 Summer Lodge Country House Hotel & Spa | Dorset, UK
Summer Lodge is a gorgeous Georgian manor set among 4 acres of lush gardens and surrounded by the very landscapes that inspired Thomas Hardy. A passionate team of event planners will ensure every detail of your renewal of vows is perfect - from Champagne toasts, gourmet canapes to pre & post celebration spa treatments.
#9 Amorita Resort | Panglao Island, Philippines
Imagine renewing your wedding vows at Amorita Resort overlooking the azure-coloured Bohol Sea, against the stunning tropical backdrop of Alona Beach. Choose from romantic ceremonies on a private beach, the Cliff Deck or a secluded island promontory.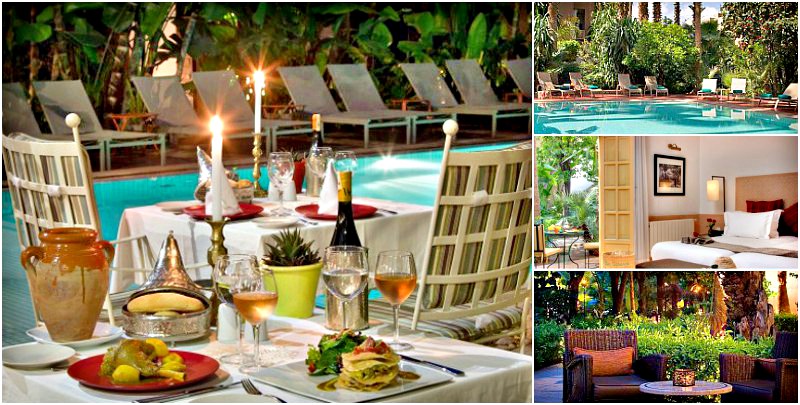 #10 Les Jardins de La Medina | Marrakech, Morocco
If you're looking for a renewal of vows celebration full of romantic charm, Les Jardins de la Medina offers a boutique hotel experience in a traditional Moroccan riad. Say "I do" all over again in the magical setting of the Medina surrounded by orange groves and olive trees.
#11 Diamonds Athuruga | Athuruga, Maldives
Loved up couples seeking a romantic renewal of vows are guaranteed to fall in love with all that Diamonds Athuruga and its stunning surroundings have to offer. Renewal of vows packages include ceremony with floral decorations and altar, sunset cruise, 5 course lobster dinner with a bottle of Prosecco and much more.
#12 St Raphael Resort | Limassol, Cyprus
Renew your wedding vows overlooking the incredible coastline of Limassol. This award-winning 5-star all-inclusive resort caters for all sizes and styles of celebration whether it is a grand affair or an intimate family gathering, a local wedding or a wedding abroad. You'll especially love the enchanting on-site chapel which is perfect for more intimate ceremonies, with ambiance and rich Mediterranean heritage set against a backdrop of spectacular sea and marina views.
#13 Auberge Saint-Antoine | Québec, Canada
Auberge Saint-Antoine in the Old Port of Québec City is a magical renewal of vows venue for all seasons. Experience the romance and charm of the city with a romantic celebration against the backdrop of the St. Lawrence River and the alluring Old Town.
#14 Chabil Mar | Placencia Village, Belize
Renew your wedding vows in a relaxed setting that only a private beachside boutique resort like Chabil Mar can provide. Bespoke renewal of vows packages include on-site celebration planner, elegant renewal of vows ceremony conducted on either the pier or beach, deluxe accommodation, personal photographer, reception, private island parties, tours and adventures for you and your guests.
#15 The Duke of Richmond Hotel | St Peter Port, Guernsey
The Duke of Richmond is an exquisite boutique hotel near the harbour in St Peter Port. If you're here to say 'I do' (for the second time) the team of dedicated wedding and event coordinators will bring together your hopes and dreams and make them all come true. Choose from four elegant rooms to host your renewal of vows, and let the celebrations lead into the night.
#16 Thanda Safari Lodge | KwaZulu Natal, South Africa
For a truly unique and memorable way to renew your wedding vows, Thanda Safari Lodge offers couples a special romantic experience including a traditional Zulu Blessing beneath the Marula tree. The 3-night package also includes a private moon-lit dinner, scented bath, romantic turndown, Champagne, spa and much more.
#17 VOI Donna Camilla Savelli Hotel | Rome, Italy
Want to renew your wedding vows overlooking the rooftops of Rome? Then say 'I do' on the terrace of VOI Donna Camilla Savelli Hotel where you and your guests will be surrounded by the stunning view of Rome's church domes and historic skyscapes.
#18 Le Meridien Bora Bora | Bora Bora, French Polynesia
Bone white sands and iridescent, turquoise waters combined with world-class luxury and Tahitian charm make Le Meridien Bora Bora the perfect destination for an intimate renewal of vows. For the ultimate Bora Bora experience ceremonies can be held in a private overwater chapel with glass floor and stunning views of the lagoon.
#19 Puerto Azul Boutique Resort and Marina | Puntarenas, Costa Rica
If you're in Costa Rica to renew your wedding vows, Puerto Azul Boutique Resort event coordinators will take care of all the details - from the bouquet to the invitations. You can even opt for the ultimate entrance and arrive to the ceremony via yacht!
#20 AfroChic Diani Beach | Kenya
AfroChic Diani Beach is the ultimate location for a beautiful beach renewal of vows ceremony. The petite and private sandy cove awaits you, surrounded by luscious green palm trees and the sparkling waters gently lapping at the shore; this is the perfect place to say 'I do!'
For all our recommended Renewal of Vows celebrations in over 100+ destinations worldwide click HERE