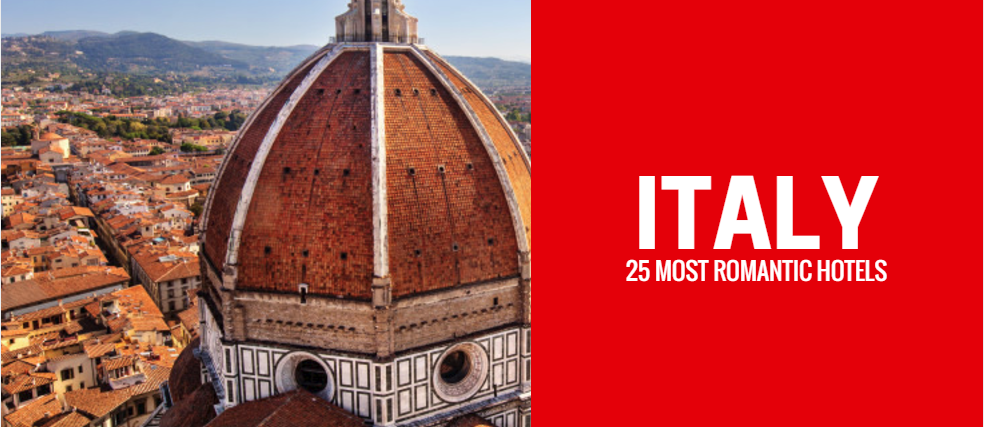 25 Most Romantic Hotels in Italy
Italy and the Italians are globally recognised as one of the most romantic destinations and cultures in the world. From the terracotta rooftops of Florence and Siena (home to the real-life Romeo and Juliet), to the bucolic beauty of Tuscany, to the white-sand shorelines of Sardinia: Italy is synonymous with romance.
To help you find your perfect piece of Italy for your next romantic break here are 25 of Italy's most romantic hotels and the reasons why couples love them.
#1 ALMAR JESOLO RESORT & SPA | VENICE
Couples will love Almar Jesolo Resort & Spa because...
What could be more romantic than a luxury beach getaway just minutes away from one of the most romantic cities in the world: Venice. Visit famous sights including St. Mark's basilica, take a romantic gondola ride through a maze of emerald canals and discover the secret beaches of Venice. Aqua and Aria Penthouse Suites are definitely the most romantic rooms of the resort, both featuring a private Jacuzzi and a private wine cellar. The romantic design of the Aqua Penthouse evokes the clear and sinuous soul of the water element, while the architecture of the Aria Penthouse is reminiscent of the fluffy white clouds. Set amongst the blue of the sky and the sea, the two Penthouse Suites are located on the top floor of the resort with a breath-taking sea view.
#2 VILLA & PALAZZO AMINTA HOTEL, BEAUTY & SPA | LAKE MAGGIORE
Couples will love Villa & Palazzo Aminta Hotel, Beauty & Spa because...
Located on Lake Maggiore, Villa & Palazzo Aminta Hotel, Beauty & Spa offers panoramic lakeside views of one of Italy's most romantic destinations. For the ultimate romantic experience couples can enjoy private use of the Grotto Cameila, a cave sanctuary dedicated to intimate journeys of wellness just for two.
#3 ANTICA TORRE DI VIA TORNABUONI N.1 | FLORENCE
Couples will love Antica Torre di Via Tournbuoni n.1 because...
This charming historic property is the perfect place to stay for a romantic retreat in the heart of Florence. Book the Romantic Room and experience the once-in-a-lifetime privilege of relaxing together in a bubble-filled, panoramic Jacuzzi with views looking out over the famous rooftops of Florence and the River Arno.
#4 GRAND HOTEL ADRIATICO | FLORENCE
Couples will love the Grand Hotel Adriatico because...
Stay at the Grand Hotel Adriatico for a romantic city break in Florence and experience this hotel's dedicated menu of complimentary Romantic Services including: Romantic Welcome, Wifi with Love, Romantic Florence Kit, Fit with Love, Love Courtesy Set, Romantic Comfort, Prestige Frigobar, Romantic Dinner, Late Check-Out, Breakfast and more. The Grand Hotel Adriatico has a great location in the romantic historic centre of Florence: easy to reach by car (also thanks to a large on site parking) and by train (just 250 m. from SMN Central Railway Station), and with all the main monuments, museums, churches and luxury shopping streets within 10 to 15 minutes walking distance. One of the most beautiful sunsets of Florence is visible just 200m. from the hotel, along the Arno River. A walk along the river is especially evocative: the Arno, in both directions, on both sides - is superb, but we suggest to go in the direction of Ponte Vecchio. Couples in love often stop here to sit on the bridge's walls and share a romantic kiss.
#5 CAMPO REGIO RELAIS | SIENA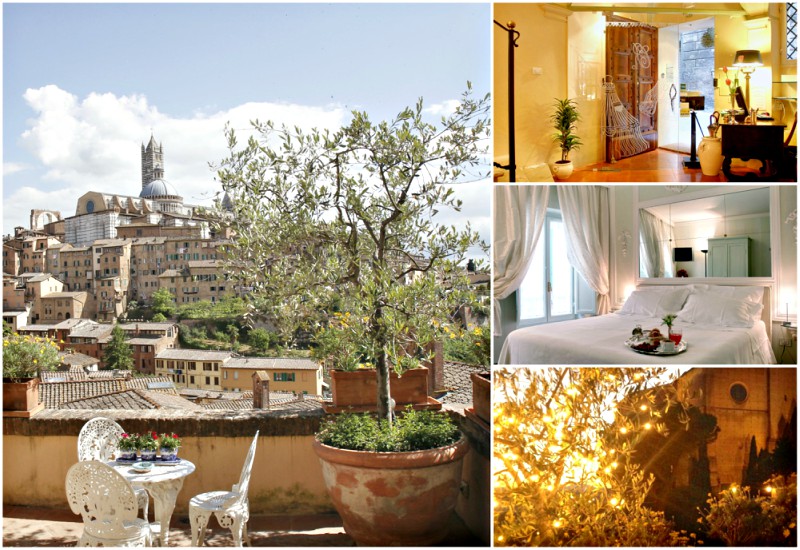 Couples will love Campo Regio Relais because...
Located in the heart of Siena, this enchanting boutique B&B is the perfect base from which to explore one of Tuscany's most romantic cities. Cobbled pavements and charming backstreet cafes provide a secret world of romance away from the busier tourist attractions and the property can also arrange private tours of the city to help you discover some of its lesser known hidden gems. For a special romantic stay couples should book room Camporegio 5 which has a baldaquin bed and the private terrace with a stunning view over the Cathedral and the old town.
#6 COUNTRY RESORT BORGO CASA AL VENTO | CHIANTI
Couples will love Country Resort Borgo Casa Al Vento because...
This delightful, family-run property sings with rustic Italian charm. Located in the famous wine region on Chianti, Borgo Casa Al Vento is an idyllic rural retreat offering couples an authentic wine experience including vineyard tours, wine tasting and an unforgettable 'His & Hers' wine bath treatment!
#7 CONTI DI SAN BONIFACIO WINE & HOSPITALITY | GAVORRANO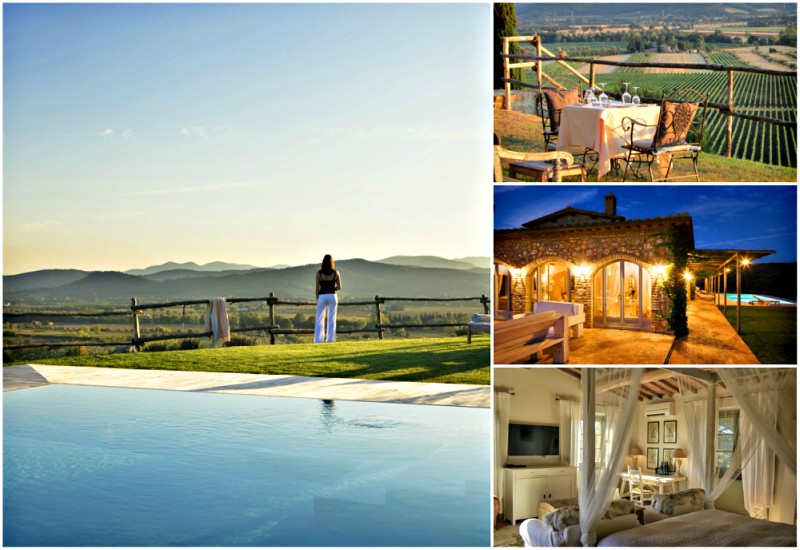 Couples will love Conti Di San Bonifacio Wine & Hospitality because...
Set amongst vineyards and olive groves, Conti di San Bonifacio invites couples to experience authentic Tuscan living in boutique luxury. Escape to a rural paradise where you wake to sweeping views of the Tuscan landscape, sip ice-cold Prosecco under a hot Tuscan sun and dine on fresh, organic traditional Tuscan dishes under a twinkling Tuscan night sky.
#8 HOTEL COSTA DEI FIORI | SARDINIA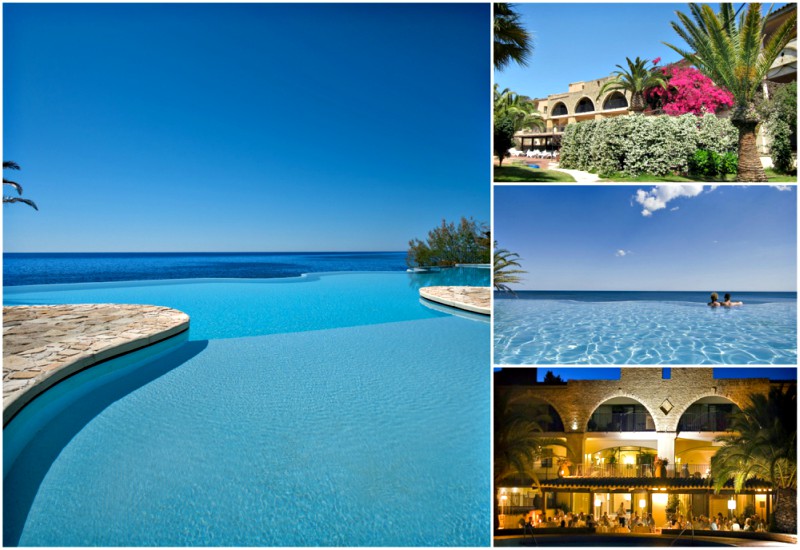 Couples will love Hotel Costa dei Fiori because...
The soft white sands and sparkling cerulean waters of the Santa Margherita coast offer a romantic beach paradise just moments from Hotel Costa dei Fiori. For an unforgettable romantic experience couples can take a moonlit horseback ride along the shoreline accompanied by the soothing soundtrack of the waves and the cooling breath of the night sea breeze. Other memorable romantic experiences offered by the resort include: a romantic candle light dinner served either in your room or by the poolside, an exclusive gourmet private dinner at the infinity pool, a romantic in room Champagne breakfast, Sardinian wine tasting accompanied with local delicacies (cheeses, salami and ham) and a romantic massage in the park.
#9 CRISTALLO HOTEL SPA & GOLF | DOLOMITES
Couples will love Cristallo Hotel Spa & Golf because...
Located in the heart of the stunning UNESCO World Natural heritage Dolomites in the Northwest region of Italy lies the grand Cristallo Resort & Spa. The Dolomites is a known for its outstanding beauty, and the Cristallo Resort & Spa sits in an incredible location with views over the mountain range and valleys beyond. For couples planning a once-in-a-lifetime romantic celebration, the famous 'Enrosadira', a natural light phenomenon whereby the evening sunlight reacts with the elements in the Dolomites rock, changing from pink to violet as the light recedes, creates a picture-perfect scene for a celebratory toast with a chilled glass of locally produced wine. Couples will also love Cristallo's sensational Dinner in the Sky experience.
#10 DUOMO SUITES & SPA | SICILY
Couples will love Duomo Suites & Spa because...
Located in the old town of Catania, Duomo Suites & Spa is a luxury, boutique hotel perfectly situated for exploring Sicily's natural and cultural wonders. With only twelve rooms, guests are treated to an intimate stay and personalised service with stand-out features of the property including floating beds and private balconies overlooking the city.
#11 FORTE VILLAGE | SARDINIA
Couples will love Forte Village because...
This five-star resort in southern Sardinia is a tranquil retreat in a stunning beachfront setting. Sumptuous accommodations, a world-class spa, immaculate white sand beaches and exquisite Mediterranean cuisine all deliver a seamless romantic experience at Forte Village.
#12 FURNIRUSSI TENUTA***** | PUGLIA
Couples will love Furnirussi Tenuta***** because...
Surrounded by Europe's largest organic fig grove, Furnirussi Tenuta is dedicated to providing its guests with an exclusive experience of luxury, well-being and gastronomy. Take a break from the stresses of everyday living and relax in the calming ambience of the Puglian countryside as you are pampered by the very best in Italian hospitality.
#13 GRAND HOTEL PALAZZO DELLA FONTE | FIUGGI
Couples will love Grand Hotel Palazzo della Fonte because...
Less than hour away from Rome, Grand Hotel Palazzo della Fonte is a quiet, countryside retreat in the historic thermal town of Fiuggi. Welcoming guests for over one-hundred years, the hotel prides itself on maintaining the highest standards of classic elegance and hospitality.
#14 GRAND HOTEL CONTINENTAL SIENA - STARHOTELS COLLEZIONE | SIENA
Couples will love Grand Hotel Continental Siena because...
Just moments away from the famous Piazza del Campo, Grand Hotel Continental Siena is the only five-star boutique hotel in the city. Among the 51 rooms the Duplex Suite is one of teh most romantic with vaulted ceilings and frescoes of the XVIIth century that represent Tristan and Isolde, the lovers of Torquato Tasso epic poem "Gerusalemme Liberata". During the summer season, a totally unique Double Deluxe room is also highly recommended. With its own private terrace you arrange a dinner by candlelight and toast to your special time in Italy as you drink an Italian aperitivo watching the sunset over the skyline and the rooftops of Siena.
#15 HELVETIA & BRISTOL FIRENZE - STARHOTELS COLLEZIONE | FLORENCE
Couples will love Hotel Helvetia & Bristol because...
Since the late 19th century, Hotel Helvetia & Bristol has been offering couples from around the world a luxury bolt-hole in the heart of Florence. Staying at this historic palazzo, you can breathe in the heady atmosphere of the Renaissance – an ambience that was part-and-parcel of the journeys made to Italy by the international élite, and was nowhere more evident than at the get-togethers of the literati in this hotel's very own Winter Garden. These, then, are high-class surroundings, and accordingly they have been the destination of choice for such illustrious Italian names as physicist Enrico Fermi, poets Eugenio Montale and Gabriele D'Annunzio, playwright Luigi Pirandello and actress Eleonora Duse, who chose this hotel as her Florentine residence for extended periods.
#16 IL BORRO RELAIS & CHATEAUX | AREZZO
Couples will love Il Borro Relais & Chateaux because...
Discover the romance of Tuscany at Il Borro: a one-thousand year old castle estate whispering the secret stories of love through the ages. Perfectly blending the luxury of modern comforts with an authentically traditional Tuscan style, couples are transported back in time for the ultimate romantic escape from twenty-first century living. The property also offers a Yoga and Wellness retreat with bespoke programmes for couples.
#17 HOTEL D'INGHILTERRA ROMA - STARHOTELS COLLEZIONE | ROME
Couples will love Hotel d'Inghilterra because...
With its illustrious history and just steps away from many of Rome's most romantic landmarks including the Spanish Steps, Via Condotti and Piazza di Spagna, Hotel d'Inghilterra is a world renown hotel in one of the world's most visited cities. Couples can expect five-star, VIP treatment and plenty of romantic surprises for the ultimate luxury city break.
#18 CONTINENTALE - LUNGARNO COLLECTION | FLORENCE
Couples will love Continentale - Lungarno Collection because...
Overlooking the river nearby the Ponte Vecchio, Continentale - Lungarno Collection is an exclusive city hideaway. Boasting one of the best rooftop bars in the city what could be more romantic than watching the sun go down over Florence as you sip on Italian bubbles.
#19 LA MORESCA MAISON DE CHARME | SICILY
Couples will love La Moresca Maison de Charme because...
Located nearby many romantic Sicilian towns such as Scicli, Ragusa Ibla, Chiaramonte Gulfi and Modica, La Moresca Maison is a charming boutique hotel with a dedicated honeymoon suite featuring rare black and white photos of Sicilian wedding shoots by famous photographer, G. Leone. Foodie couples will also be pleased to know that the surrounding area is well known for its exceptional cuisine and seafood including two restaurants with 2 Michelin's stars and many intriguing Sicilian Trattorias just a short walk or drive away. The hotel can also recommend personalised visits to a local Wine Cellar, Olive Oil producer or even chocolate producer - yum!
#20 GRAND HOTEL PARKER'S | NAPLES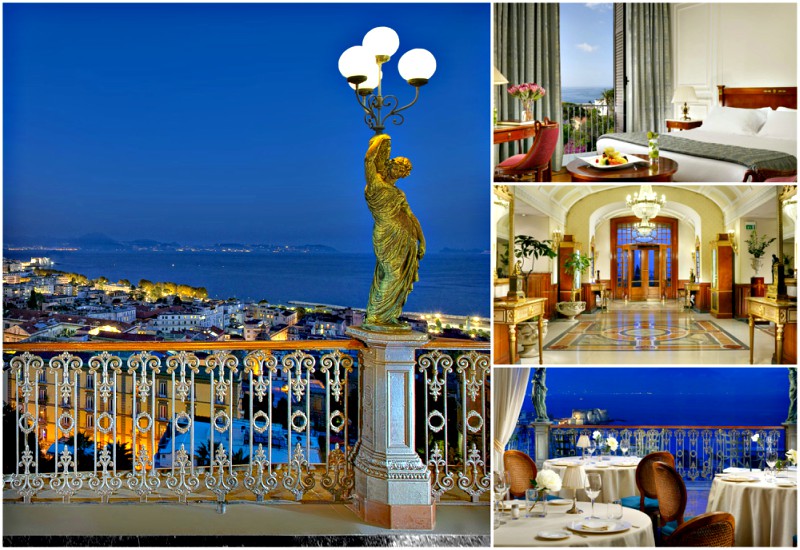 Couples will love Grand Hotel Parker's because...
This impressively grand hotel is the perfect base for couples to enjoy a luxury break in the historic city of Naples in southern Italy. Famous for its spectacular architecture and delicious thin-crust pizza, Naples is one of Italy's top romantic destinations and can be viewed in all its splendour and glory from the exclusive rooftop terrace of Grand Hotel Parker's.
#21 HOTEL ROMANICO PALACE | ROME
Couples will love Hotel Romanico Palace because...
Located in the centre of Rome, Hotel Romanico Palace is dedicated to creating bespoke experiences for every occasion and couples can choose from a selection of packages designed especially for romantic celebrations including Romantic Breaks, Proposals, Anniversaries, Birthdays, Babymoons, Honeymoons and Weddings.
#22 PARCO SAN MARCO LIFESTYLE BEACH RESORT | PORLEZZA
Couples will love Parco San Marco Lifestyle Beach Resort because...
Created out its founders' vision to build the ultimate romantic retreat, Parco San Marco is an idyllic hideaway in the Italian Lakes. Dedicated to romance the resort's motto observes that love-induced insomnia is a blissful side effect of real-life being better than our dreams: Indeed at Parco San Marco this may well be true!
#23 HOTEL VILLA SONIA | SICILY
Couples will love Hotel Villa Sonia because...
High in the hilltops of Taormina, Hotel Villa Sonia is a charming Italian hideaway offering stunning views of nearby Mount Etna. Actively promoting a more relaxed style of romantic break, guests here are encouraged to explore the surrounding region at a distinctly leisurely pace leaving plenty of time with for saoking up the Sicilian sunshine before cooling off in outdoor pool.
#24 VILLA ACQUAVIVA | MAREMMA
Couples will love Villa Acquaviva because...
An aristocratic villa, a collection of traditional farmhouses and the traditional flavours of Tuscany elegantly combine to create the Villa Acquaviva experience. Located in the beautiful Maremma countryside; rolling hills, fruit heavy olive groves and seductive vineyards embrace visitors in a Tuscan tapestry of rustic charm - the perfect backdrop for a romantic getaway or destination wedding.
#25 VILLA BARBERINO RESORT | MELETO
Couples will love Villa Barberino Resort because...
Completing our list of Italy's 25 most romantic hotels is a stunning Tuscan retreat set in the grounds of the fourteenth-century Barberino castle. Embraced by Villa Barberino's extensive grounds and surrounding rural landscapes, couples staying here will fall in love both with Italy and each other.