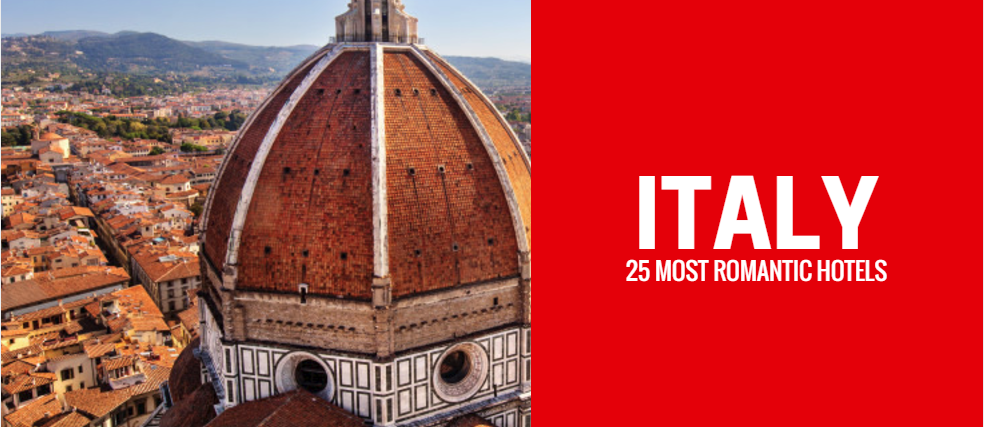 25 Most Romantic Hotels in Italy
Discover Italy's most enchanting destinations and immerse yourself in the allure of romance with our exclusive countdown of Italy's most romantic hotels... recently updated for 2023/24.
From the iconic cities of Rome, Florence and Siena... to the captivating landscapes of Tuscany... to the magical allure of the Amalfi Coast... to the pristine beaches of Sardinia... and much more beyond... Italy is a haven for lovers.
Uncover the hidden gems of Italy with our curated list of 25 romantic hotels that not only win for the charm and beauty of their exquisite accommodations, but have been handpicked for their ability to create romance and cherished memories with your loved one.
#1 KOLBE HOTEL | ROME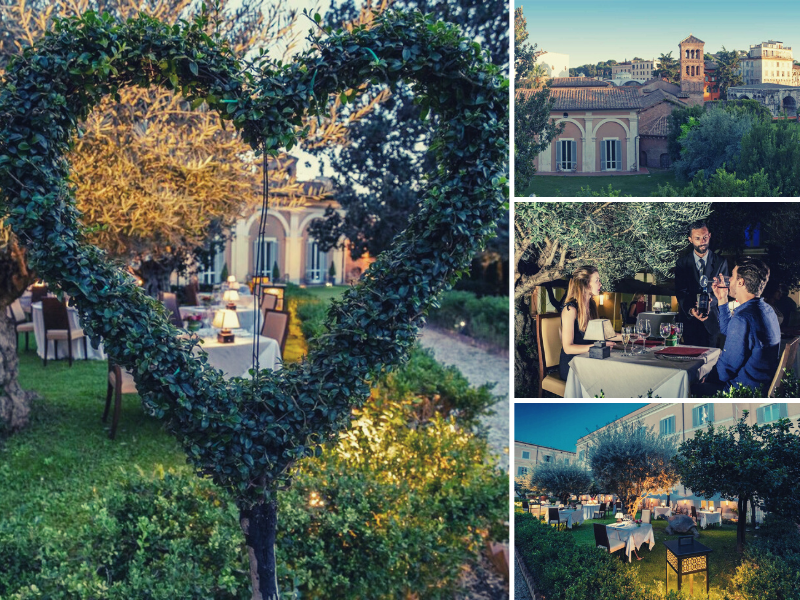 Couples love Kolbe Hotel Rome because...

What could be more romantic than a secret garden oasis tucked away on a cobbled street in the heart of ancient Rome?
Within Kolbe Hotel Rome itself, romantic couples can book into spacious Jacuzzi suites directly overlooking ancient Rome for an evocative and unique experience. And don't forget to book a table at it's enchanting garden restaurant... officially voted the 'Most Romantic Restaurant in Rome... and included in this special Romance Experience Package in Rome.
#2 TENUTA SAN MASSEO | ASSISI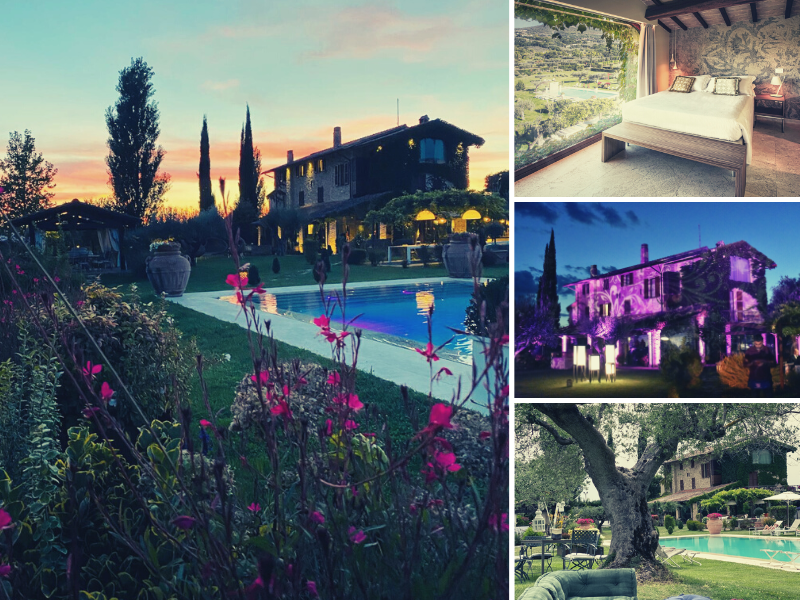 Couples love Tenuta San Masseo because...
Discover a tranquil haven of serenity and rejuvenation, overlooking the breath-taking beauty of Assisi. This intimate and exclusive property has just 8 rooms for a maximum of 22 guests, complete with an idyllic outdoor pool and a private SPA retreat including a sauna, hammam, halotherapy chamber, and wellness rooms for indulgent massages and treatments.
As the sun sets, couples can embark on a romantic journey with a candlelit dinner for two in the stunning private wine cellar, where you can savour a selection of exceptional local wines.
#3 MY ARBOR - TREE HOTEL | ITALIAN DOLOMITES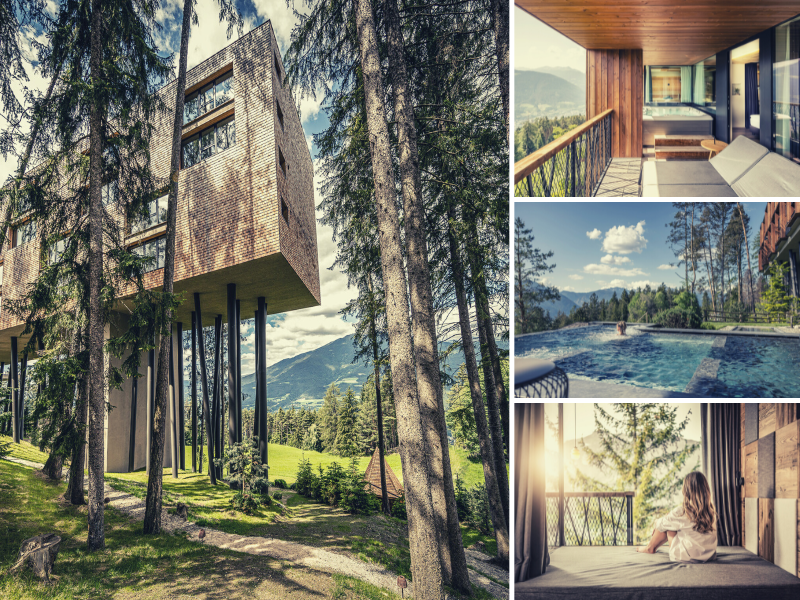 Couples love My Arbor because...
Experience a one-of-a-kind getaway at this stunning treetop hotel, offering an awe-inspiring panorama of the Dolomites. Here couples immerse themselves in the serenity of the treetop landscape and prepare for an romantic adventure that seamlessly blends the familiar with the extraordinary.
For an extra-special experience stay in the Tree Top suite, complete with an outdoor whirlpool on the terrace and private sauna infused with unique essential oils and ice balls, providing a tranquil sanctuary to reconnect with nature's beauty.
#4 VILLA LENA | TUSCANY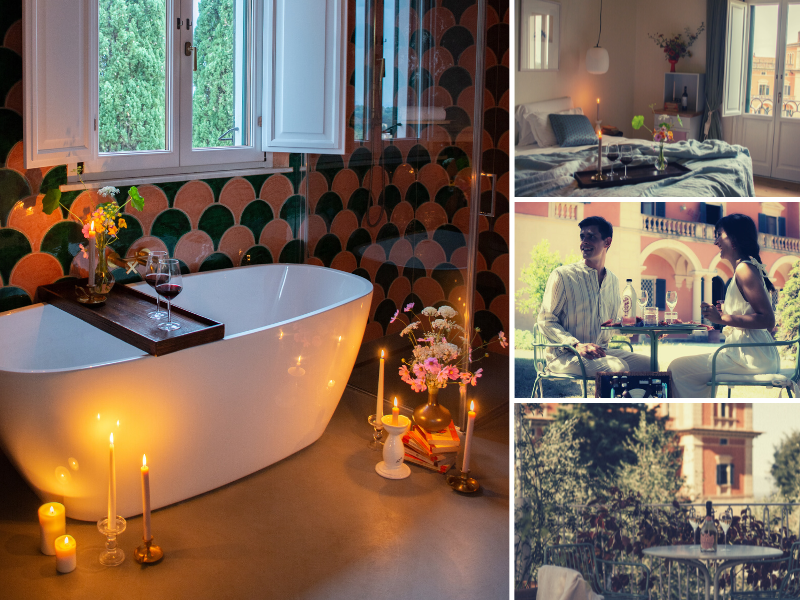 Couples love Villa Lena because...
Experience the magic of Villa Lena, an enchanting retreat in the Tuscan woodlands... where you'll discover a sanctuary of innovation, sustainability, and endless love.
Whether you're ready to propose, or celebrate a special anniversary, or embark on a romantic honeymoon, the estate offers a treasure trove of romantic experiences. Delight in intimate picnics, unforgettable private dinners, and luxurious baths for two. Indulge in fine wines and organic flowers that adorn your room. Connect on a deeper level through private art and yoga workshops.
#5 PIAZZAdiSPAGNA9 | ROME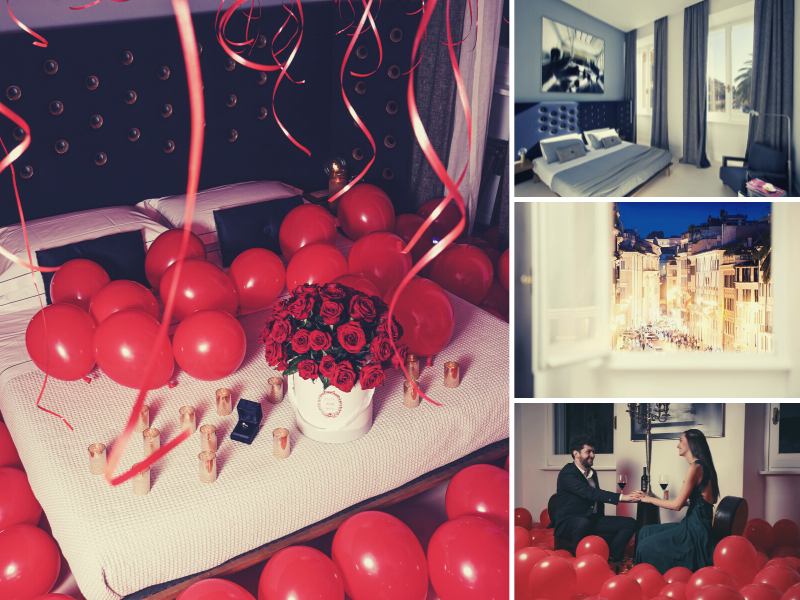 Couples love PiazzaDiSpagna9 because...
Unforgettable memories await at PiazzadiSpagna9. This exceptional hotel is more than just a place to stay - it's a transformative experience.
Indulge in romantic candlelit dinners... savour delectable Michelin meals while gazing at the iconic Spanish steps... and sip evening aperitivi while taking in the breath-taking view of the historical Piazza. Get ready to create extraordinary and everlasting romantic memories.
#6 BaBA DREAM | ALASSIO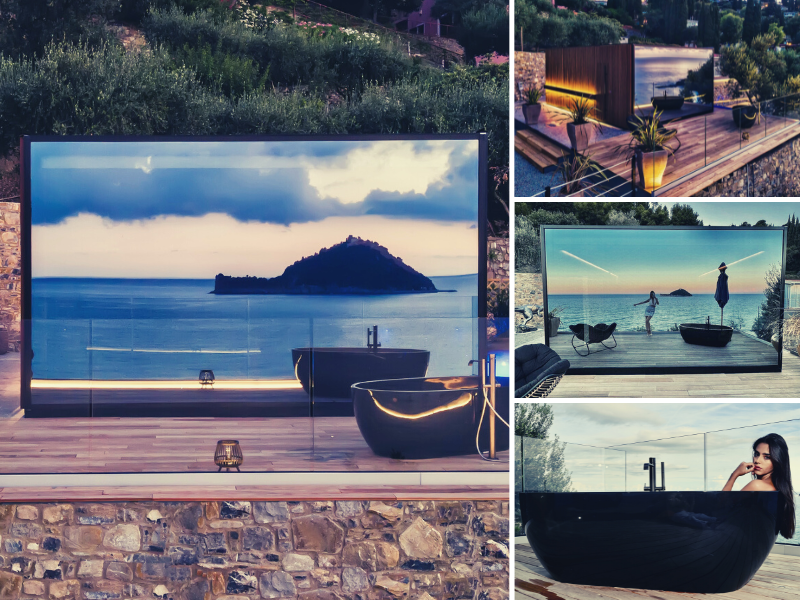 Couples love Baba Dream because...
The extraordinary BaBa Dream suite, is a 5-star gem like no other. Nestled on a hillside in a tranquil location, this exclusive haven offers unparalleled privacy just minutes away from the renowned BaBa beach.
Immerse yourself in a world of love as you enter your suite adorned with rose petals, and indulge in the delights of sparkling wine, candies, and chocolates. Take in the breath-taking views as you spend intimate evenings in the outdoor bathtub, complete with champagne. Delight in intimate dinners in the comfort of your own residence or on the picturesque Baba Beach (available June to September).
#7 HOTEL FLORENCE PITTI PALACE al PONTE VECCHIO | FLORENCE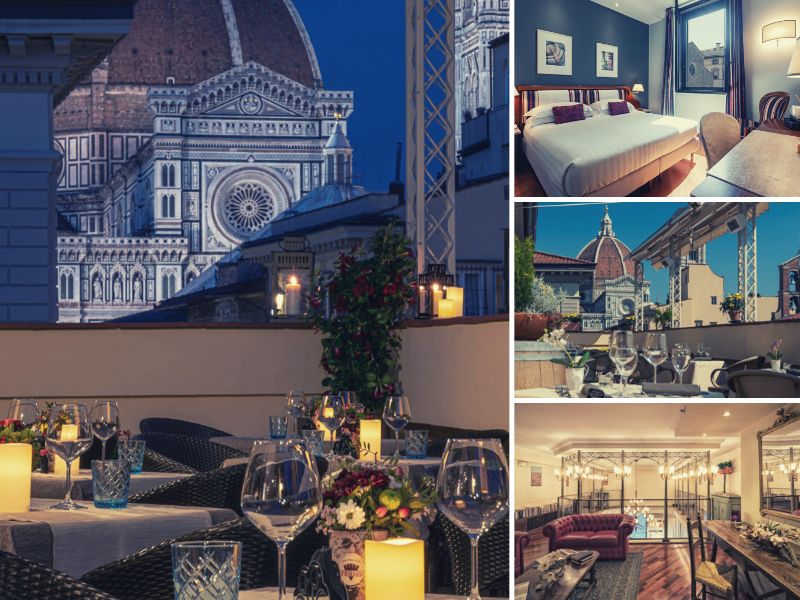 Couples love Hotel Florence Pitti Palace al Ponte Vecchio because...
You'll find the perfect location in Florence at Hotel Firenze Pitti Palace al Ponte Vecchio. This 4-star hotel is situated in the heart of the historic centre, in the iconic 13th century Torre Rossi, and just a 5-meter distance from Ponte Vecchio.
Some rooms provide stunning views of the Arno River and Ponte Vecchio. But for the ultimate exclusive experience, the Queen Suite comes with its own terrace, offering one of the most breath-taking views of Florence. And on the 6th floor, the terrace offers an awe-inspiring view (see image) that will leave you speechless... whether you enjoy it during breakfast or while dining at night in the restaurant.
#8 CASTELLO di SANTA CRISTINA | TUSCANY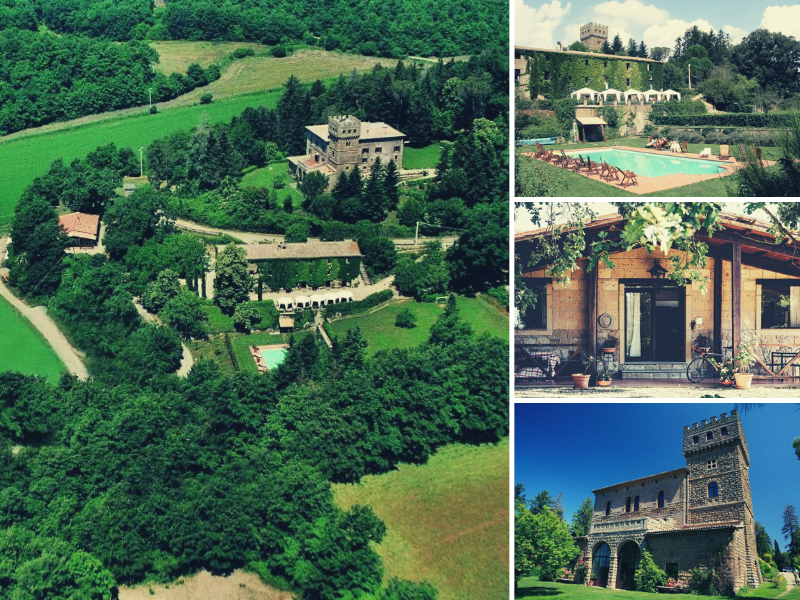 Couples love Castello di Santa Cristina because...
Escape to the ultimate romantic getaway at Castello di Santa Cristina, a stunning 17th-century castle hotel nestled in the picturesque landscape of southern Tuscany. Immerse yourself in a perfect blend of history, luxury, and natural beauty.
With its convenient location between Orvieto and Siena, this captivating destination offers the ideal retreat for you and your loved one. Relax by the pool, embark on thrilling horseback rides, or unleash your inner chef with engaging cooking classes. Experience the breath-taking surroundings while creating unforgettable memories.
#9 PALAZZO GUIDO | LECCE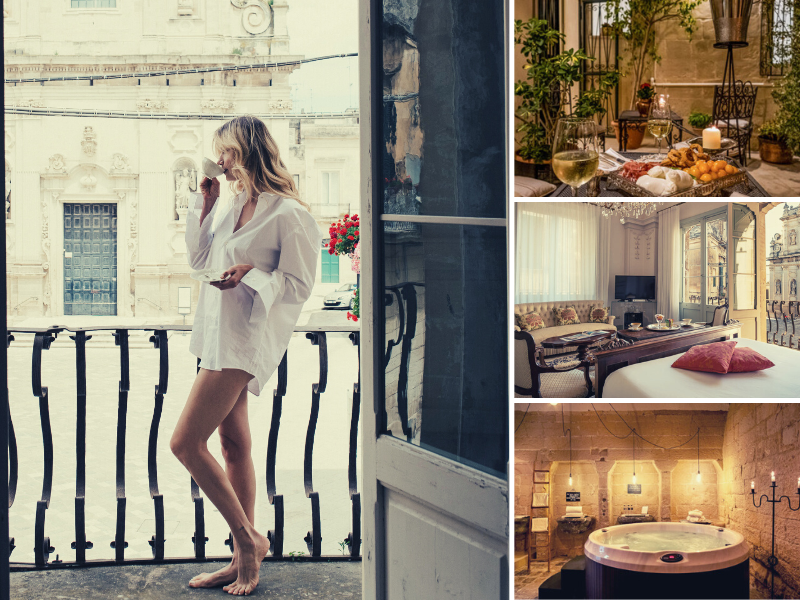 Couples love Palazzo Guido because...
Experience the charm of Palazzo Guido, a captivating historic residence nestled in the heart of Lecce's old town. With 5 exquisite Suites and 2 stylish Apartments, this boutique hotel breaks free from the ordinary definition of luxury.
Couples will especially enjoy the enchanting SPA, complete with a blissful jacuzzi and rejuvenating sauna. Unwind with your loved one and treat yourselves to one of the incredible massages. And why not create even more cherished memories with your partner as you sip on delectable cocktails and soak up the stunning views from the rooftop terrace?
#10 LE LAPPE RELAIS | AREZZO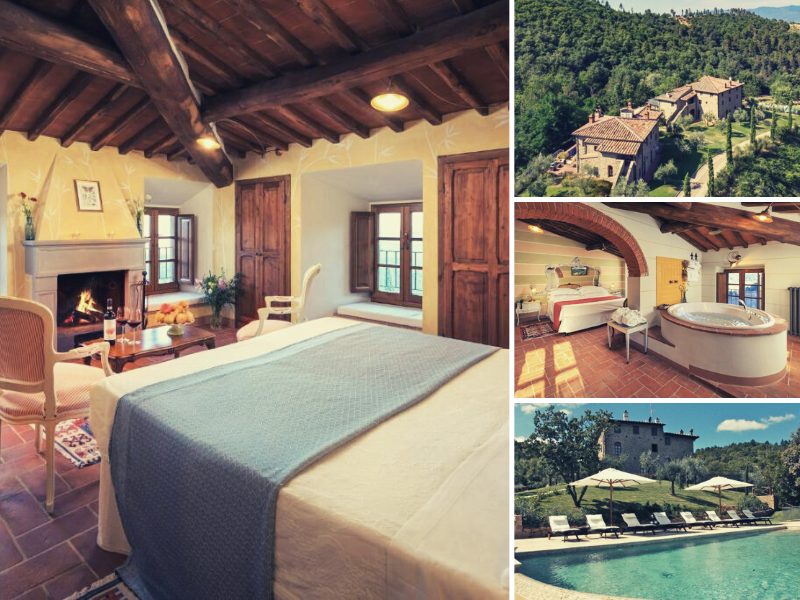 Couples love Le Lappe Relais because...
Le Lappe Relais offers 11 uniquely designed Suites, featuring exquisite antique and handcrafted furniture from local artisans. Each room offers breath-taking views of the surrounding natural beauty, seamlessly blending Tuscan tradition with modern comfort.
Enjoy the romantic ambiance of a stone fireplace, the elegance of terracotta tiled floors, and the charm of beamed ceilings. Enhance your stay with a delightful range of activities, from wine tastings and cooking courses to exhilarating hot air balloon rides or peaceful walks in the nearby forest.

#11 CASTELLO di SAN MARCO | SICILY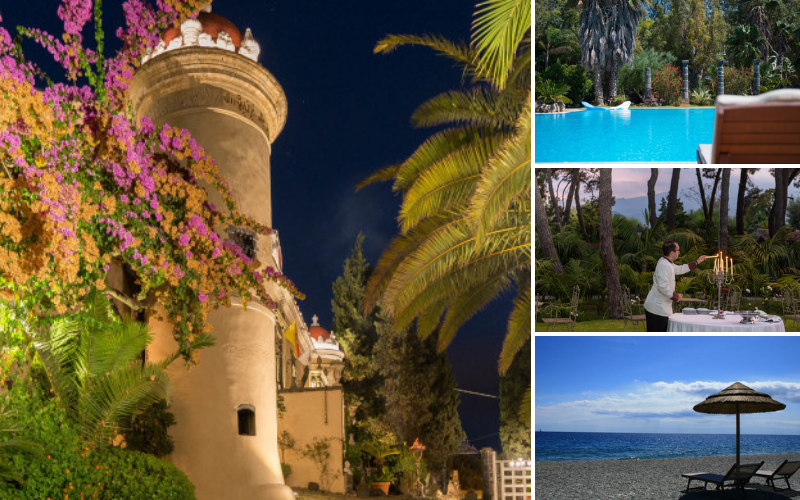 Couples love Castello di San Marco because...
Located between fiery Etna and the romantic Taormina, Castello di San Marco is an exquisite beachfront Baroque Castle hotel on the Jonian Sea.
For the ultimate romantic experience couples can enjoy an exclusive private spa journey followed by candlelight dining in the poolside restaurant finished with digestive traditional aphrodisiac almond wine.
#12 GRAND HOTEL EXCELSIOR VITTORIA | SORRENTO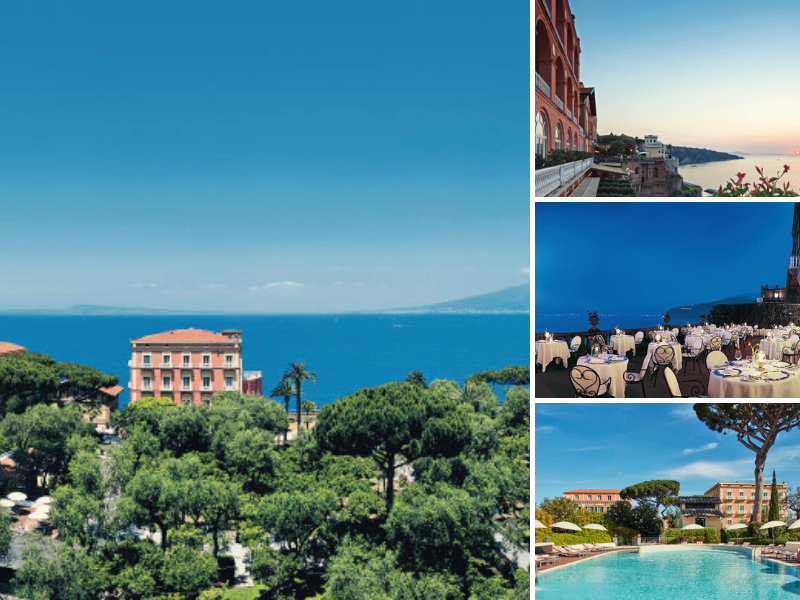 Couples love Grand Hotel Excelsior Vittoria because...
This charming historic property is the perfect place to stay for a luxury retreat on the cliffsides of Sorrento. Book into one of their gorgeous suites and experience the once-in-a-lifetime privilege of relaxing together in one of the most famously romantic settings in Italy.
#13 VILLA QUARANTA TOMMASI WINE HOTEL & SPA | VERONA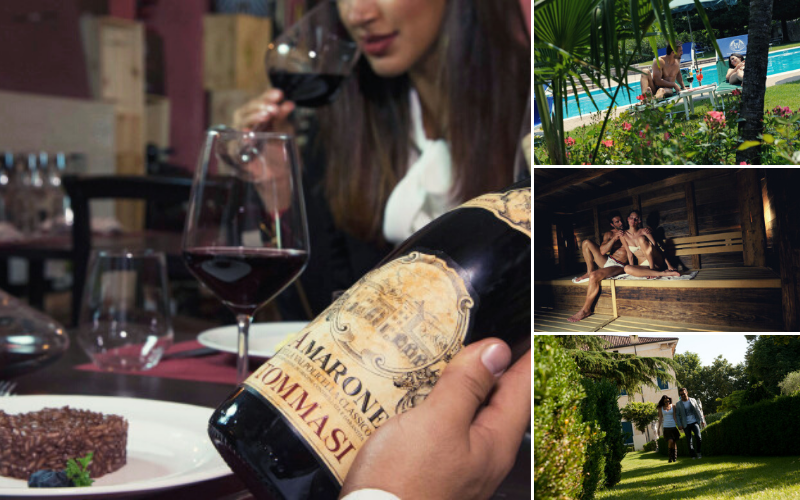 Couples love the Villa Quaranta Tommasi Wine Hotel & Spa because...
Villa Quaranta Tommasi Wine Hotel and SPA welcomes all couples who wish to relax and enjoy a little romance in a 19th century setting, only a short walk from Lake Garda and from Romeo and Juliette's magnificent city of Verona.
Book a one night stay in the Suite and you'll be treated to a romantic breakfast in bed, a bottle of Pinot Nero Brut Rosé Caseo accompanied by some strawberries upon arrival, precious moments of total relaxation in the saunas and thermal baths, plus a romantic candlelit dinner with rose petals for decoration in a private room… all as part of a 360°C romantic experience!
#14 CAMPO REGIO RELAIS | SIENA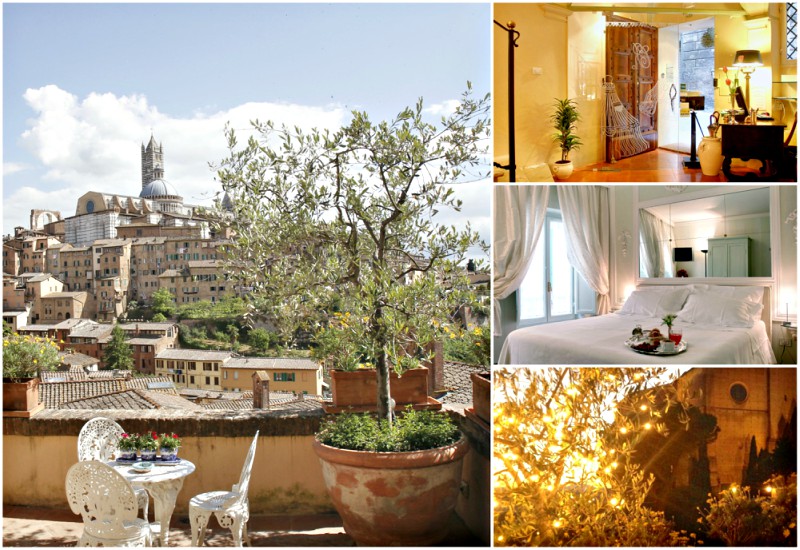 Couples love Campo Regio Relais because...
Located in the heart of Siena, this enchanting boutique B&B is the perfect base from which to explore one of Tuscany's most romantic cities. Cobbled pavements and charming backstreet cafes provide a secret world of romance away from the busier tourist attractions and the property can also arrange private tours of the city to help you discover some of its lesser known hidden gems.
For a special romantic stay couples should book room Camporegio 5 which has a baldaquin bed and the private terrace with a stunning view over the Cathedral and the old town.
#15 TORRE A CONA WINE ESTATE | TUSCANY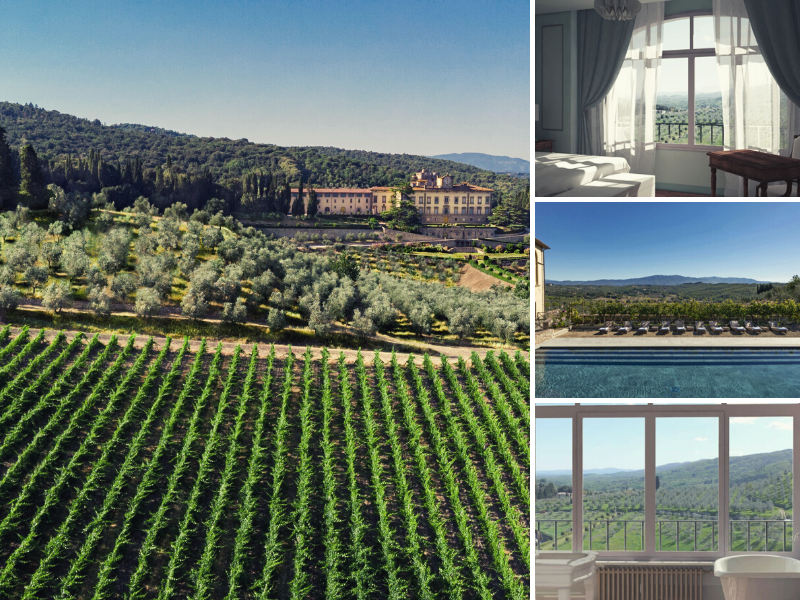 Couples love Torre a Cona Wine Estate because...
This delightful, 18th century property sings with rustic Italian charm. Located in the Florence hills, Torre a Cona is an idyllic rural retreat offering couples an authentic wine experience including vineyard tours, wine tasting and unforgettable views of one of Italy's most beautiful (and romantic) regions.
#16 PALAZZO BELMONTE | AMALFI COAST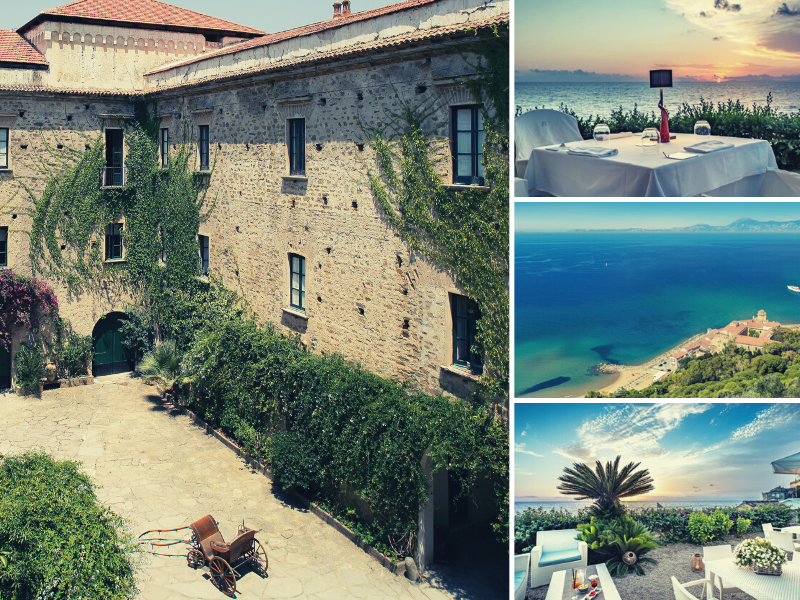 Couples love Palazzo Belmonte because...
Step back in time when you enter the courtyard of Palazzo Belmonte. Experience the unchanged beauty of the past 400 years. This is the perfect romantic getaway, with a serene 17th century courtyard, a stunning beach, and breath-taking panoramic terraces overlooking the Amalfi coast and Capri.
Discover romantic corners that are surrounded by lush greenery. Indulge in a romantic boat trip along the picturesque coast, stopping in beautiful bays for a refreshing swim. Or venture to the enchanting island of Capri for a day of romance. Immerse yourself in the ambiance of Positano as you stroll its charming streets.

#17 CONTI DI SAN BONIFACIO WINE & HOSPITALITY | GAVORRANO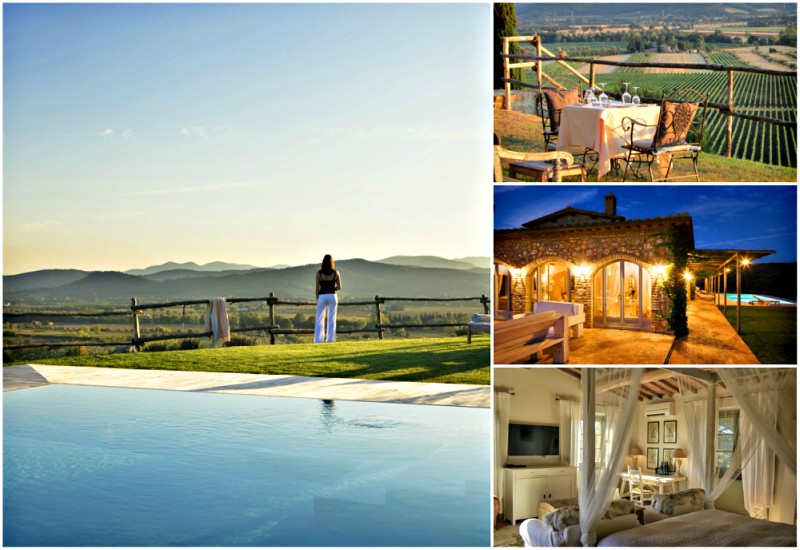 Couples love Conti Di San Bonifacio Wine & Hospitality because...
Set amongst vineyards and olive groves, Conti di San Bonifacio invites couples to experience authentic Tuscan living in boutique luxury. Escape to a rural paradise where you wake to sweeping views of the Tuscan landscape, sip ice-cold Prosecco under a hot Tuscan sun and dine on fresh, organic traditional Tuscan dishes under a twinkling Tuscan night sky.
#18 HOTEL COSTA DEI FIORI | SARDINIA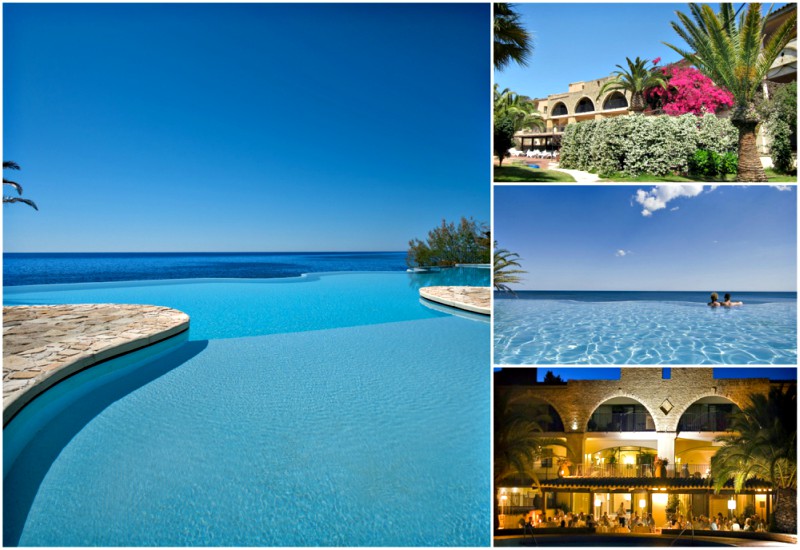 Couples love Hotel Costa dei Fiori because...
The soft white sands and sparkling cerulean waters of the Santa Margherita coast offer a romantic beach paradise just moments from Hotel Costa dei Fiori. For an unforgettable romantic experience couples can take a moonlit horseback ride along the shoreline accompanied by the soothing soundtrack of the waves and the cooling breath of the night sea breeze.
Other memorable romantic experiences offered by the resort include: a romantic candle light dinner served either in your room or by the poolside, an exclusive gourmet private dinner at the infinity pool, a romantic in room Champagne breakfast, Sardinian wine tasting accompanied with local delicacies (cheeses, salami and ham) and a romantic massage in the park.
#19 DANDELION COMO SUITES & PARK | COMO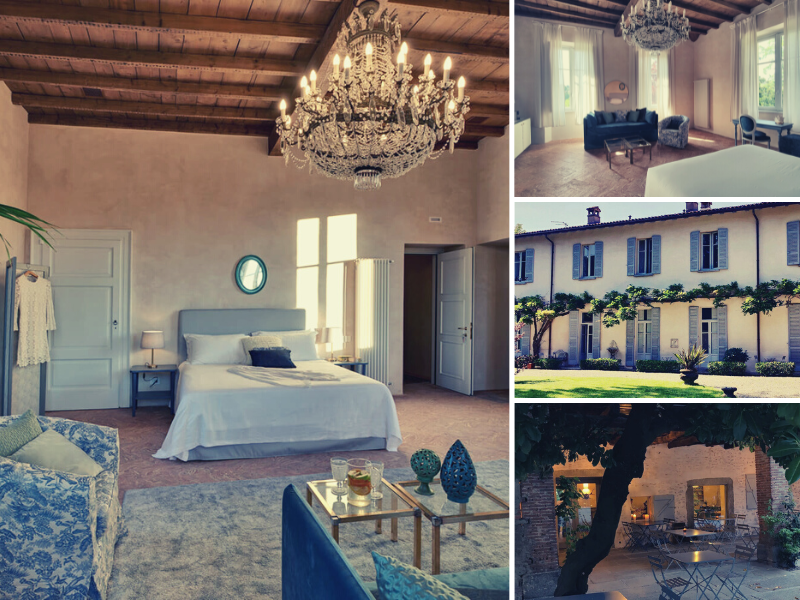 Couples love Dandelion Como because...

Experience the charm of the Como countryside at Dandelion Como Suites and Park. Nestled just a few kilometres away from Como, Milan, and Switzerland, this boutique hotel and event venue promises a truly unique stay.
Step into a historic courtyard transformed into a stunning hotel, featuring the Villa and the Court. The Villa offers deluxe rooms and exclusive suites that exude the glamorous and cosmopolitan style of the 1930s. With picturesque views of the park and internal courtyard, prepare to be enchanted by this elegant retreat.
#20 CASA FANTINI / LAKETIME | PIEDMONT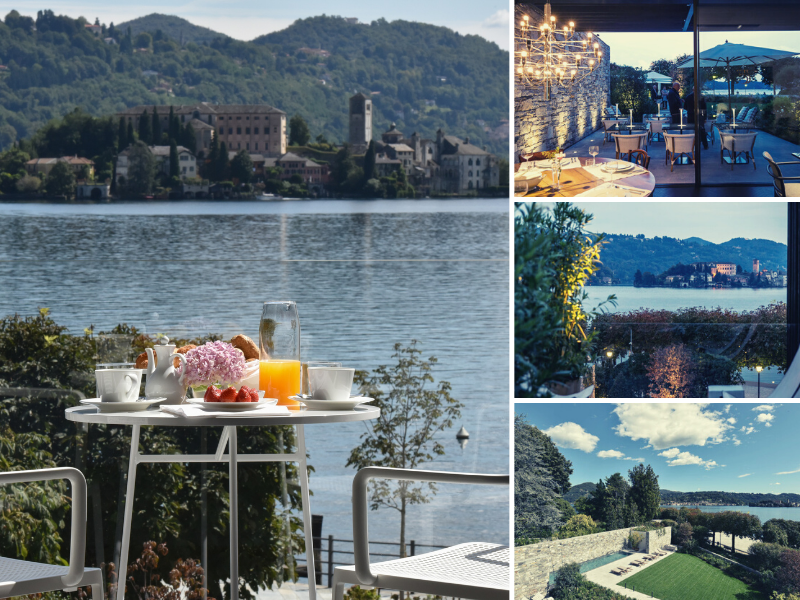 Couples love Casa Fantini / Lake Time because...
Sitting on the shores of Italy's most romantic lake, Casa Fantini is dedicated to providing its guests with an authentic experience of lakeside living.. Take a break from the stresses of everyday living and relax in the calming ambience of Lake Orta and true Italian hospitality. The sunset aperitifs are also not to be missed! Watch in silent awe as the pink skies turn the lake silver.
#21 GRAND HOTEL PARKER'S | NAPLES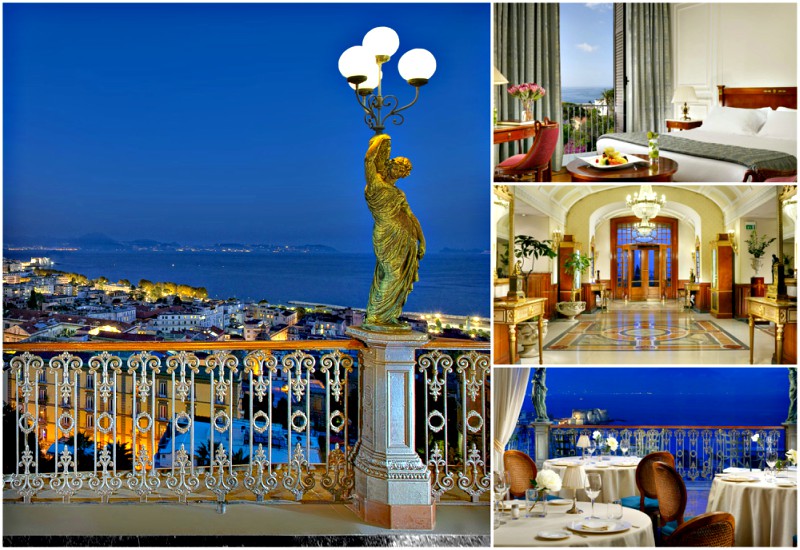 Couples love Grand Hotel Parker's because...
This impressively grand hotel is the perfect base for couples to enjoy a luxury break in the historic city of Naples in southern Italy.
Famous for its spectacular architecture and delicious thin-crust pizza, Naples is one of Italy's top romantic destinations and can be viewed in all its splendour and glory from the exclusive rooftop terrace of Grand Hotel Parker's.
#22 ALMAR JESOLO RESORT & SPA | VENICE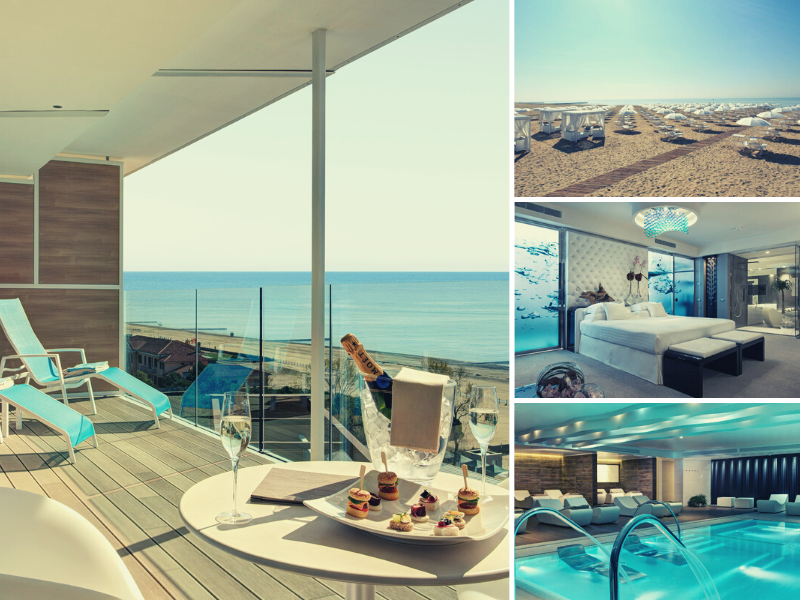 Couples love Almar Jesolo because...
What could be more romantic than a luxury beach getaway just minutes away from one of the most romantic cities in the world: Venice. Visit famous sights including St. Mark's basilica, take a romantic gondola ride through a maze of emerald canals and discover the secret beaches of Venice. Aqua and Aria Penthouse Suites are definitely the most romantic rooms of the resort, both featuring a private Jacuzzi and a private wine cellar.
The romantic design of the Aqua Penthouse evokes the clear and sinuous soul of the water element, while the architecture of the Aria Penthouse is reminiscent of the fluffy white clouds. Set amongst the blue of the sky and the sea, the two Penthouse Suites are located on the top floor of the resort with a breath-taking sea view.
#23 RELAIS ALMARANTO | PIEMONTE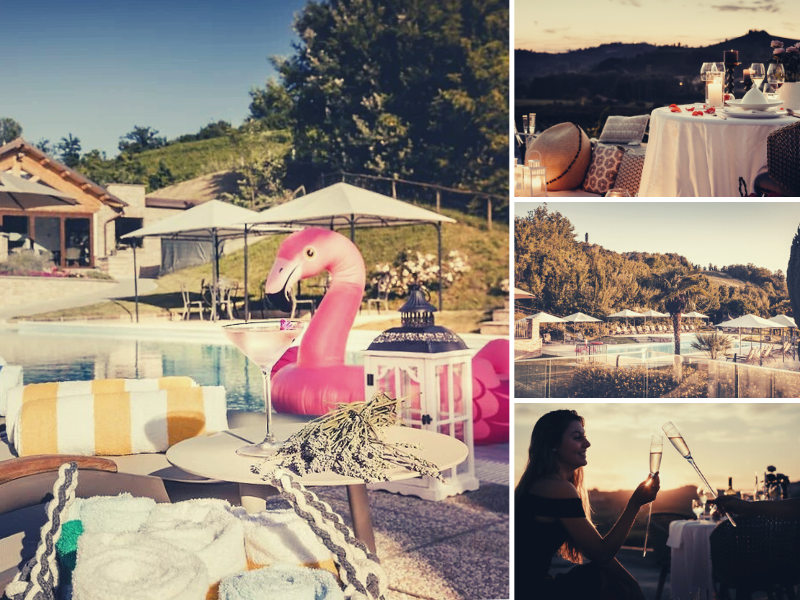 Couples love Relais Alamaranto because...
Experience the perfect blend of old-world charm and modern luxury at Relais Almaranto. Located in the UNESCO region of Piemonte, this romantic retreat offers whirlpool baths for two, an outdoor jacuzzi tub with stunning vineyard views, and private dining for an intimate experience.
Take a picnic basket for a romantic stroll through the vineyards or explore a local beauty spot while indulging in delicious local produce and breath-taking views of the hills and mountains of Monferrato, Piemonte.
#24 VILLA ACQUAVIVA | MAREMMA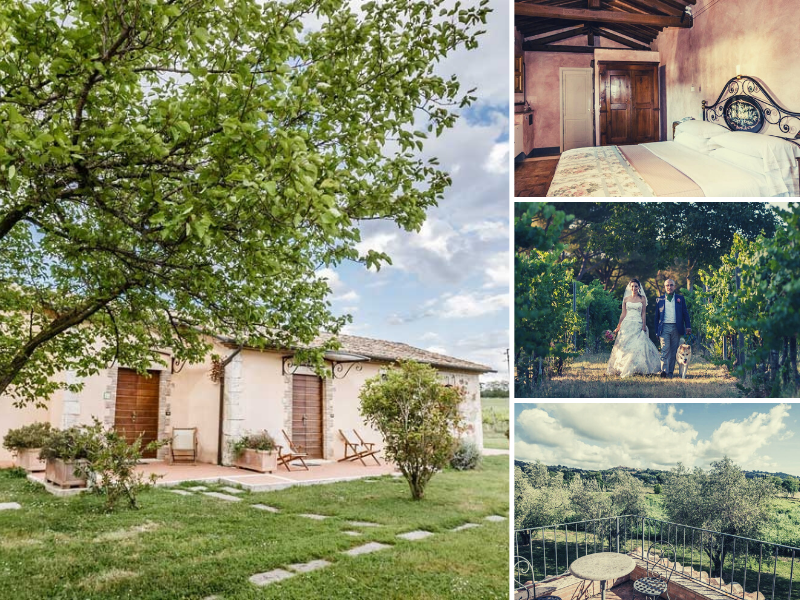 Couples will love Villa Acquaviva because...
An aristocratic villa, a collection of traditional farmhouses and the traditional flavours of Tuscany elegantly combine to create the Villa Acquaviva experience. Located in the beautiful Maremma countryside; rolling hills, fruit heavy olive groves and seductive vineyards embrace visitors in a Tuscan tapestry of rustic charm - the perfect backdrop for a romantic getaway or destination wedding.
#25 HOTEL AQUARIUS | VENICE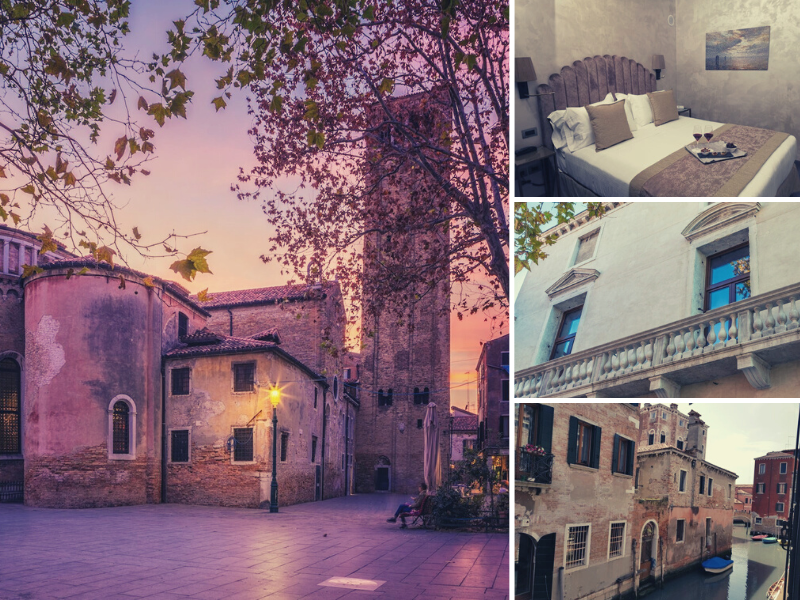 Couples love Hotel Aquarius Venice because...
Completing our list of Italy's 25 most romantic hotels is the enchanting Hotel Aquarius, nestled in the charming Santa Croce district of Northern Italy. Perched overlooking the beautiful San Giacomo dell'Orio square, this hidden gem celebrates the rich history and traditions of Venice.
With its impressive façade and thoughtfully designed interior, Aquarius beckons you to experience the romance and elegance of Venetian waters. Picture yourselves strolling hand-in-hand by our courtyard well or exploring the tranquillity of our secret garden. And when you're ready for an adventure, slip away through our private water door and set off on a magical journey along the canals of Venice.
Did you find your dream romantic hotel in Italy?
With Italy's reputation for romance, these 25 hotels guarantee couples unforgettable stays.
Whether it's the magical experiences or the enchanting locations, these hotels all set the perfect stage for a romantic getaway.
While all provide comfort and relaxation, which is of paramount importance, each holds its own unique and inviting charm that makes couples feel special.
Whether in one of the many vineyards or perched on a hillside overlooking spectacular views, couples will find places to imbue them with blissful moments and lasting memories.
From thoughtfully designed spaces to breath-taking surroundings, these 25 hotels bring together everything necessary for an enchanting stay.
If you want more ideas and inspiration to make your romantic vacation in Italy swoon-worthy, then take a look at our full collection of recommended romantic hotels in Italy - we promise they won't disappoint!
YOU MAY ALSO LIKE:
ITALY WEDDINGS: How to get married in Ancient Rome
EUROPE ROMANTIC GETAWAYS: 30 Mini Moons in Europe
PORTUGAL HOTELS: 10 Romantic Holidays for Couples